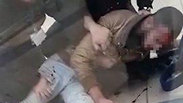 Bedouin Israel Defense Forces soldier attacked at train station
Row over security check leaves Bedouin IDF soldier battered and bloody
Guards at train station in southern city of Be'er Sheva claim soldier, who was hit on the head with a gun barrel, failed to obey standard security procedures and had to be forcefully restrained after he tried to push his way onto the premises.
A Bedouin Israel Defense Forces soldier was violently attacked on Sunday by security guards at a train station in the southern city of Be'er Sheva, after he allegedly refused to identify himself or have his belongings checked. As a result of the confrontation, the soldier suffered a severe laceration to his head caused by a barrel of a gun one of the guards hit him with.

The video of the incident shows the soldier lying on the floor of the station, with two security guards having him in a hold. The soldier's head is seen slowly drooping to the floor, with the blood pouring from an open wound.

Bedouin IDF soldier attacked at train station

The incident took place around 9am, and according to Israel Railways sources, the victim refused to present a soldier's ID card and place his backpack on a scanning machine at the station's security checkpoint.

The security guards then informed the soldier that he was being detained, prompting "the soldier to call his officer and force his way through the barrier into the station," the source said.

The guards then had to restrain the soldier, which involved the use of violence.

The spokesperson for Magen David Adom said although they received a call about a man suffering from a head wound at the train station, when the medical teams arrived at the scene, they couldn't locate the victim.

In addition, no complaint has yet been filed with the police regarding the incident.

"During a routine security check at the Be'er Sheva cental railway station, the soldier refused to comply with the procedures and even attempted to forcefully break into the station," said Israel Railways in a statement.

"The soldier confronted a security guard at the entrance to the station, prompting him to use force to prevent the passenger from entering the premises, in accordance with the security procedures of Israel Police," added the statement.