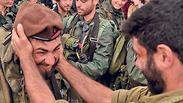 Photo: IDF Spokesperson's Unit
They were born to a Bedouin father and a Jewish mother, live in the northern Druze town of Isfiya - and serve in the elite Golani infantry brigade.

Shaker, the eldest brother and company commander in the 51st battalion, on Thursday awarded the brigade's prized brown beret to his younger brother Adam at the end of the famed IDF "march of glory" (known in Hebrew as the masa kumta or beret march).

Shaker was the first Bedouin Israeli to attend the IDF Junior Command Preparatory School, founded by David Ben-Gurion as an institution combining military and academic education. Upon completing his studies, Shaker enlisted in the Golani Brigade, where he completed a reconnaissance course.

Adam, his younger brother, followed him, studied at the same boarding school and enlisted in the same unit. And they are not the only ones in the family to wear the olive uniform: who wear uniforms at home: their older sister is not only an IDF officer but also a lawyer in the Military Advocate General's Office.

"We come from a family that serves in the army, mostly in Golani," says Shaker.

When asked about their mixed ethnicity family and where they live, Adam jokes: "We are made up of the entire nation of Israel."

Shaker adds: "We studied in a Jewish school and we live in a Druze village, so there are always questions like, 'How do you know how to speak Arabic?' My father believes strongly in our integration into society; he says citizens should be equal in rights and in duties. But it wasn't always easy.

"When my sister enlisted, it was a tough decision for him. A woman in the army and an officer's course, who went on to a master's degree in law, was not an easy pill to swallow in a conservative society. But it gave us our own right to choose, and it constantly resonates with that it doesn't matter what we become, the most important thing is to still be a good person."

"Our home is mixed and open," says Adam. "We fast for Ramadan but celebrate the (Passover) Seder with my mother's Jewish side. My father even read the Haggadah at the last holiday. So long as there is a family feeling, everything will be okay."