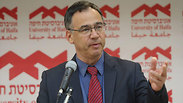 Shai Nitzan (Photo: Gil Nachshon)
Photo: Gil Nachshon
State Prosecutor Shai Nitzan hit back Sunday at claims that political considerations motivated Attorney General Avichai Mandelblit to recommend charges against Prime Minister Benjamin Netanyahu in his three corruption investigations.
"The decision (to call for indictments) was made solely out of considerations based on the evidence," Nitzan said in an address at the University of Haifa.
"A suspect's political identity is of no interest and is never taken into consideration. There were claims from both sides that the attorney general had caved to pressure, but this has no basis in fact. The attorney general made a decision in which he believed according to his conscience and his best judgment, and not because of any pressure."
Mandelblit on Thursday called for Netanyahu to face charges in all three of the open corruption investigations into his actitvities, hours after the High Court rejected a last-ditch attempt by the Likud party to delay his recommendations until after the April 9 elections.
The attorney general, who was once Netanyahu's cabinet secretary, recommended bribery, fraud and breach of trust charges in Case 4000, in which Netanyahu is suspected of receiving favorable coverage on the Walla! News website in return for regulatory benefits to telecommunications giant Bezeq, which owns the site.
He also called for charges of fraud and breach of trust in both Case 1000, in which Netanyahu and his family are suspected of receiving illicit gifts from wealthy donors, and Case 2000, in which Netanyahu allegedly tried to negotiate favorable coverage in the Yedioth Ahronoth daily (Ynetnews' sister publication) in return for promoting legislation against rival paper Israel Hayom.
Netanyahu lashed out at the attorney general following the publication of his recommendations, calling the timing of the announcement "outrageous" and accusing members of the judiciary and his political opponents of carrying out an "unprecedented witch hunt."
Nitzan stressed Sunday that the prime minister will have the opportunity to present his case at a hearing before any final decision on indictments is reached.
"Last Thursday the attorney general decided to consider putting the prime minister on trial in three cases for bribery, fraud and breach of trust, subject to a hearing," Nitzan said. "The decision that was reached is not final; it is an interim decision. Considerations on whether to put the prime minister on trial and the final decision will be made only after the prime minister has made his case to the attorney general and the State Prosecutor's Office."
He added: "It is important to clarify that the final decision is made by the attorney general. I have a great deal of respect for the attorney general, who has led this process thoroughly and deeply over the last few months. Professional disagreements are common, but these disagreements do not prevent us from working respectfully throughout the entire process and until the decision (on whether to indict) is made."
The state prosecutor also defended the decision by Mandelblit to release his recommendations ahead of the April 9 elections, something which both Netanyahu and his Likud party claim will have an adverse effect on his re-election chances.
"In this matter, I will clarify that we acted according to a guidance policy that states that if a case is ready for a decision, there is no cause to wait simply because there are upcoming elections. The public right to know and other legal principles compel us to take such action."
The state prosecutor cited former cases against other politicians as examples of judicial action that was not influenced by politics.
"There were no political considerations with the decision to indict (Ehud) Olmert, the former prime minister who was the head of the Kadima party on the other side of the map, and in exactly the same way there were no political considerations with the Netanyahu case," Nitzan said as he ended his remarks on the affair.