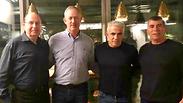 Israel Resilience's party platform, set to be released Tuesday, does deal with economic and social issues, but the main issue will be diplomatic - and it is clear that an effort is being made not to drive away right-wing voters.
The two-state solution is not mentioned, nor is the term "Palestinian state" for that matter. Sources on the party's Knesset list claim there was a dispute between the right-wing and left-wing factions within Blue and White, and ultimately they decided to say that there would be an effort to realize the diplomatic process with the Palestinians, but that the phrase "Palestinian state" would not be included.
"In any event, there is no chance of establishing a Palestinian state in the near future," said the source. "Therefore, we decided to present a pragmatic platform."
The Blue and White platform was jointly penned by a representative from each of the three parties that make up the union - Chili Tropper of Israel Resilience, Ofer Shelah of Yesh Atid and Yoaz Hendel of Telem.
In the spirit of the right-wingers in the party, the platform explicitly states that there will be no unilateral disengagement from Judea and Samaria (West Bank) and no withdrawal from four strategic areas — the West Bank settlement blocs, the Jordan Valley, Jerusalem and the Golan Heights. Similarly, the terms "two-state solution" and "Palestinian state" are replaced by a plan for a regional conference to promote Israel's separation from the Palestinians.
"We are in favor of negotiations, but without a unilateral withdrawal or disengagement," party sources said. "This is a centrist party that appeals to the right. The Likud claims that we are a left-wing party — Netanyahu is calling us the left, but after he sees our platform, that will backfire ... This is a practical platform based on the understanding that there will be no peace agreement tomorrow morning, but with a hope of peace and the goal of exhausting all existing possibilities (to achieve that)."
One particularly interesting issue on the platform is the Nation-State Law, which Gantz (number 1 on the Blue and White list) promised to amend, and Zvi Hauser (number 14 to the list) co-drafted. The solution, according to the platform, is an initiative to legislate the "the principle of equality" as a Basic Law, separate from the Nation-State Law or as a counterweight to it, in order to emphasize the rights of non-Jewish citizens of Israel.
Beyond the diplomatic sphere, the Blue and White platform will also tackle several controversial issues. For example, it will include support for public transportation on Shabbat in secular communities and places where it will not impact the observant Jewish public, subject to a decision by the local authority.
The platform also includes a promise to pass a surrogacy law that includes gay men – something that drew widespread criticism of the outgoing government.