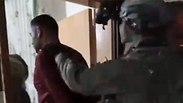 The arrest of Asem Barghouti
The Israeli military on Thursday demolished the family home of a Palestinian terrorist behind the killing of two soldiers and an Israeli newborn.
Israeli forces bulldozed the home of Asem Barghouti in the West Bank village of Kobar near Ramallah in the early morning.
Barghouti was arrested earlier this year for his role in the deadly shooting attacks last December. He was arrested as part of a month-long joint manhunt involving police, the Shin Bet security service and IDF.
The arrest of Aasem Barghouti
At least seven people were wounded by gunfire shot from a passing Palestinian vehicle near Ofra Junction in the December 9, 2018 attack. One of the victims was Shira Ish-Ran, a 21-year-old woman in her seveth month of pregnancy who was seriously wounded in the attack. The baby, Amiad Israel, was delivered prematurely as a result of his mother's injuries, and only survived for several days.
President Reuven Rivlin called the couple "true heroes," and posted the poem "The Parable of the Fledgling" by Eli Eliyahu about a baby bird that falls from his nest and cannot be rescued.
"We are with you, embracing you, and will not rest until this despicable terrorism is uprooted," he said.
Footage from the scene of the attack shows a white sedan approaching the location before slowing down and someone inside firing a stream of bullets at the people standing at the bus stop at the entrance to Ofra, before the car fled the scene.
Four days later, Barghouti was involved in a shooting attack north of Jerusalem that killed two soldiers from the Haredi Netzah Yehuda Battalion and wounded two other people.
The attack—a drive-by shooting on Route 60, a central artery that runs through the West Bank—occurred some 5km south of the West Bank settlement of Ofra, at a bus stop next to the Giv'at Asaf outpost. All four victims were in their 20s.
Corporal Yosef Cohen, 19 from Beit Shemesh, and Sergeant Yovel Moryosef, 20 from Ashkelon,both died in the shooting. They were posthumously promoted to corporal and sergeant respectively.
Israel arrested more than 100 Palestinians in the manhunt after the attacks and killed Barghouti's brother - the gunman in the Ofra attack - in one of its arrest raids.
Israel frequently demolishes Palestinian attackers' homes as a policy aimed at deterring future attacks.