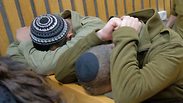 בית דין צבאי יפו מעצר קצין חיילים צה"ל חטיבה כפיר נצח יהודה חשד הכאת פלסטינים
Photo: Shaul Golan
The military court in Jaffa on Thursday convicted three soldiers from the ultra-Orthodox Netzah Yehuda Battalion of aggravated assault adn aggravated battery for a brutal attack on two Palestinian detainees, a 50-year-old man and his 15-year-old son, in January.

The soldiers were convicted of assaulting of the two during their arrest for suspected collaboration with the Palestinian militants behind a deadly shooting attack that killed two of their battalion comrades in the West Bank in December.

The three have reached a plea bargain with prosecutors, although it has yet to be approved. The deal will see the three sentenced to 190 days in jail, demoted to the rank of private and given probation. The final verdict will be handed down on Sunday.

Two more soldiers have also been charged in the affair, while the platoon commander is accused of standing by and not preventing the violence. He did not sign a plea bargain and will now face a full trial. The other two soldiers are reportedly negotiating their own plea deals at the moment.

The five soldiers were indicted in January for severely beating the two Palestinian detainees, leaving them seriously hurt with fractures to their ribs and noses, during the manhunt for As'am Barghouti, who shot dead two soldiers from the Netzah Yehuda Battalion at the Giv'at Asaf outpost in the West Bank in December.

The two Palestinians were arrested on suspicion of helpling Barghouti and his brother—who were also involved in a terror attack near Ofra Junction that left a newborn baby dead and seven people wounded—evade capture.

The IDF Spokesperson's Unit said the five soldiers were charged with aggravated abuse and aggravated battery. The soldiers allegedly cursed, slapped, punched and hit the suspects with fists and blunt objects, targeting their heads as well as other body parts, while the two Palestinians were tied up and blindfolded. The soldiers also allegedly kicked the suspects in the groin and pulled on their hair.

As the suspects were being transported by the Netzah Yehuda troops, the vehicle passed the Giv'at Asaf Junction, where the two of the soldiers' comrades—Sergeant Yosef Cohen and Staff Sergeant Yovel Moryosef—had been gunned down. This prompted the soldiers who were sitting in the back of the car with the detainees to start abusing them, while the platoon commander observed but did not interfere.

The indictment stated that footage of the incident, filmed by one of the soldiers, showed the troops cheering as the suspects were being beaten.

"At one point, the defendants removed the blindfold from one of the detainees, so he would see his friend being beaten, while the other soldiers were cheering," the indictment said. "As a result, the two suspects needed urgent medical treatment and were later hospitalized at the Shaare Zedek Medical Center in Jerusalem."

Once at the hospital, doctors found the two Palestinians had suffered severe rib and nose fractures.