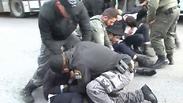 Haredi protesters evacuated from the road, Jerusalem
Photo: Alex Gamburg
The Israel Police arrested 30 ultra-Orthodox protesters on Thursday evening in Jerusalem, after the extreme Jerusalem Faction staged a rally on protest over the arrest of a draft dodger.

Some 500 protesters physically blocked the light rail tracks and several roads in the capital, while shouting insults at police officers and calling them Nazis. "The draft is religious persecution," "we'll die and won't join the army," "to prison but never to the army," called the protesters.

Police forces were using crowd dispersal methods in an attempt to reopen main roads in the capital.

The protesters belong to the extreme Jerusalem Faction that refuses to acknowledge the state's authority, and refuse to show up at the IDF draft facility even for the purpose of getting their exemption.

The faction's leaders called on their followers to take to the streets after a draft dodger was arrested. However, in light of the upcoming elections, another motive could be distinguishing the Jerusalem Faction from the mainstream Haredi public, represented in the Knesset by the Shas and the United Torah Judaism parties, who the extremists believe to be collaborators with draft laws.

In reality, Yeshiva students do not get arrested for their refusal to join the IDF— since the draft law allows them to continue their studies and avoid the draft. However, since the faction's followers refuse to show up for exemption hearings, the IDF considers them to be draft dodgers and eventually some get arrested.