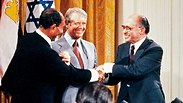 1979 חתימה הסכם שלום עם מצרים מנחם בגין אנואר סאדאת ג'ימי קרטר ב ארה"ב
Photo: AFP
Today, according to the Jewish calendar, 27 years have passed since the death of Menachem Begin. One may be forgiven for assuming that the 40-year-old Israeli-Egyptian peace agreement was the late prime minister's political zenith, but he did not think so. When I asked him what was the most important of all of his government's decisions, he surprised me by saying the June 1981 bombing of the nuclear reactor in Iraq by the Israeli Air Force.

When I asked him why, he explained that this bombing raid, known as Operation Opera, eliminated a danger whose objective was to harm Israel's existence. Peace with Egypt, he said, was important, but there was no way of knowing how it would unfold in the future.

It is fair to assume that if Begin were with us today, he would point to the peace deal as an achievement that proved itself. He cracked the collective Arab bloc against Israel, and it was not just Jordan that followed in Egypt's footsteps. It also led to a deep and growing connection between Israel and other Arab states in the Middle East and beyond, some of which are open and some are not (and these are often touted by Prime Minister Benjamin Netanyahu). Egyptian President Abed al-Fattah al-Sisi is not only carefully preserving the legacy of Sadat and Mubarak when it comes to the Jewish state, but is also mediating between Israel and the current rulers of Gaza. And this is not all he is doing.

As someone who had the honor of serving the peace process with Egypt as a media advisor to Begin, I witnessed the development of his relationship with Anwar Sadat. The Egyptian president insisted that their private meetings, conducted in English, would be without advisers or note-takers. The two embarked on a vision of a new Middle East that would serve as a model for another world. Sadat was a victim of the peace-haters in his own country, and feared those who wished to torpedo the process. "They are waiting for me," he said. Similar warning signs were delivered to Cairo from Israel.

During the days when I covered politics for Yedioth Ahronoth, there was great interest in the stormy arguments between Prime Minister Ben-Gurion and Opposition Leader Begin, but behind the scenes there was a "romance" between Begin and Paula Ben-Gurion. He was always made sure to greet her, and would plant a Polish-style kiss on the back of her hand.

"Begin's habits appealed to her," said her son, Amos Ben-Gurion. "He showed her respect with gallantry, treated her with dignity, and my mother loved it."

On the eve of the 1967 Six-Day War, Begin moved to reinstall Ben-Gurion as premier. The country's founder was still remembered as a strong leader compared to his successor and then-prime minister, Levi Eshkol. Begin's attempts failed, but the tense history between the two seemed to have been erased. In 1969, Ben-Gurion gave Begin, then a minister in the national unity government, a copy of a sensitive document he had sent to Golda Meir, who became prime minister after Eshkol's death in February 1969. The document contained harsh criticism of Eshkol and even called his government a danger and a disaster.




In a personal part of his letter to Begin, Ben-Gurion revealed his change of heart about the right-wing politician: "My Paula was always your admirer, for some reason; I would object, and sometimes very harshly, to your way, before the creation of the state and after, when I opposed (Revisionist Zionist Ze'ev) Jabotinsky's path. But I have never had a personal grudge against you, and everything I've come to know about you over the last few years had led me to admire you more, and my Paula was happy about that." Begin replied that Ben-Gurion's words "touched the depths of my heart." He added: "One had to know her (Paula) up close to realize how clever she was."

The entente did not survive. When the Ben-Gurion Institute asked him for an interview, Begin said: "I do not have good things to say, and I do not wish to say bad things." Nonetheless, as prime minister he used to visit Ben-Gurion's grave every year on the anniversary of his death, and would always eulogize him properly.