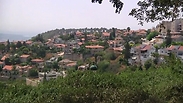 Nazareth Illit
Photo: Shamir Alvaz
The northern city of Nazareth Illit is changing its name to Nof HaGalil (the Galilee view) some 62 years after it was founded, in order to end the confusion of tourists visiting the city who come looking for the biblical town of Nazareth, located next door.

The move is an initiative of the city's mayor, Ronen Plot, who prioritized the issue days after being elected. He set up a public committee comprised of 21 city residents of all religions and age groups, headed by the municipality's general director, Hava Bachar.

At the request of the committee, the city's residents sent their suggestions for a new name, and out of 200 entries, five potential names made it to the finals: Nof Illit, Kiryat Hagalil, Neve Illit, Nofey Illit and Nof HaGalil.

The finalists were supposed to reflect the Galilee central city's most prominent geographical aspects, such as its landscape. The finalists' list was then sent to the Prime Minister's Office, which chose the eventual winner.

Mayor Plot emphasized the name should be approved by the Interior Ministry before being officially changed, and promised to conduct a referendum among the city's residents. "Nazareth is the largest Arab city in Israel, and Nazareth Illit is the largest Jewish city in the Galilee," said the mayor.

"We live in an excellent neighborhood, but we have a completely different identity and character. If for the past 62 years Israeli citizens still haven't grasped there is a difference, there is no choice but to change the name … in order to rebrand the city's identity."

According to Christian belief, the family of Jesus Christ hails from the city of Nazareth—where his mother received the news of her pregnancy, and where Jesus himself spent most of his life.