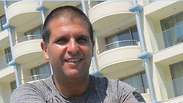 Avraham Matzliah, one of the two Israeli citizens who died at the Ethiopian Airlines jet crash Sund
Avraham Matzliah, 49, was identified Monday as one of the two Israelis who were killed in the Ethiopian Airlines plane crash on Sunday morning near Addis Ababa.
Matzliach lived in Maale Adumim, near Jerusalem, and was married and a father of twin daughters — who both serve in the IDF. He was a successful high-tech businessman, and often made the journey from Tel Aviv to Africa.
"Avraham was a very special person," said his sister Meirav. "He was a wonderful father and a such a funny man — we're shocked, it's a tragedy. We cannot believe it."
"My brother called me at work at 10.30 am yesterday and said that our brother (Avraham) was on the flight, and that his status was unknown," Meirav said. "(Avraham) loved Africa, he was there for at least a week each month. He was really connected to the people and the place," she said.
"My mom still believes he might be alive. She's in total denial," said Meirav. "She won't believe he's gone until she sees the body."
The family added that it is unclear when they will receive Matzliah's remains and be able to bury him. "All the bodies are in a large mountainous area from what I gather," Meirav said. "The teams there are having a hard time (locating the bodies), it's unclear how long it would take to identify the body."
One of Matzliah's 19-year-old daughters, Yael, said: "I spoke to him on Saturday, before he left (for Africa). His flights were routine. But then on Sunday I saw the story about the plane crash on Ynet, so we started making phone calls to the airline and we quickly understood the tragedy. We're shocked. We still can't comprehend it."
The Ethiopian Airlines flight crashed shortly after takeoff from Ethiopia's capital on Sunday morning, killing all 157 on board—including two Israelis— and More than 30 other nationals. The plane had showed unstable vertical speed after takeoff, and then reportedly tried to climb before it came down.
Malka Galato, the farmer whose land the plane crashed on, said he saw small items that looked like paper coming from the plane. The plane was making a strange noise and made a sudden turn just before it crashed, he said.
Ethiopian authorities are leading the investigation into the crash, assisted by the U.S., Kenya and others. They have already found the flight recorders from the field where the plane went down — however, the crash' circumstances are still unclear.
Meanwhile, airlines in Ethiopia, China, Indonesia and elsewhere grounded the Boeing 737 Max 8 jetliner after the second devastating crash of one of the planes in five months.