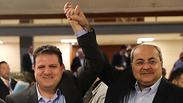 Ahmad Tibi and Ayman Odeh
Politicians don't want Arabs in the Knesset — but don't mind their votes
Opinion: While Netanyahu is busy blaming Gantz for 'not ruling out' Arab parties from his coalition, there are thousands of Palestinian- Israelis who vote for Likud, Shas and even further to the right. The PM doesn't mind getting votes from 'good Arabs' — as long as, God forbid, they don't utilize their basic right for political representation
"Benny Gantz said he isn't ruling out forming a coalition with the Arab parties," said Prime Minister Benjamin Netanyahu of his political rival over and over again, as he dragged the entire political system into battling over who can more thoroughly humiliate and exclude some 20 percent of the Israeli population. Well, it's a little over 15%, but politicians love to throw in the Arabs of East Jerusalem — just to scare the public and spice things up.
The thing is that those exact same Arabs — the "droves of Arabs" who, God forbid, go to the polls and vote — sometimes vote for rightists parties, and Netanyahu certainly doesn't mind when that happens.
I set out to examine voting statistics for the 2015 elections in all Arab communities around the country. And, what do you know, some 35,000 Palestinian Israeli citizens (excluding Druze and Circassians citizens) voted for right-wing parties — including the racist ones like Eli Yishai's Yachad Party.
Of course, for Netanyahu and his fellow coalition members, those are "the good Arabs." They have representatives in the coalition, and are active partners in leading the nation. His real cause, then, is to delegitimize the "bad Arabs", who don't vote for him or his partners. As Netanyahu sees it, these non-Jewish Israeli citizens and their representatives don't deserve a place in the Knesset.
But what is it that makes Arabs lesser citizens to Netanyahu? Is it the fact the majority of their population doesn't serve in the IDF, or perform civil service instead? The ultra-Orthodox public is no different. What would have happened if the prime minister had said similar things about the Haredi public?
If it simply based on them not being Jewish — well, then it is a blunt discrimination, designed to create an un-apologetic Apartheid system. Unfortunately, this Apartheid idea seems to appeal to other parties as well. I turned to the speakers of Arye Deri's Shas and Moshe Kahlon's Kulanu, two parties that won thousands of votes from Arab communities around the country, and asked them what they thought about incorporating Arab parties in the coalition — even if only as part of a "what if" game. And, what do you know, they also are pleased to get Arab votes — but are also not interested in Arab representation.
To all those politicians who don't think Arab representatives belong in the Knesset — I have a news flash. Arabs are citizens here, and they aren't going anywhere. Actually, their percentage in the Israeli population grows yearly. Despite continuous discrimination against them in regards to funding, infrastructure and educational and employment resources, Arab are becoming a big part of the labor force and a part of Israeli society.
The fact that some in the Arab sector chose to vote for non-Arab parties, and that thousands of Jewish Israelis voted for the Joint Arab List in the 2015 elections, means something. It means, as I see it, that there is a real desire for political partnership, and a real opportunity for civil partnership.
In a normal democratic country, there's no reason why Ahmad Tibi, leader of the Ta'al Party and a doctor, wouldn't serve as the minister of health. I'm pretty certain he'll do less harm than Yaakov Litzman, who heads United Torah Judaism, and certainly won't back heinous sex offenders like Litzman did recently.
There's also no reason why Ayman Odeh of the Hadash Party wouldn't become the welfare and labor minister. This could even take place in an imaginary government formed by Naftali Bennett — who works to increase the number of Palestinian Israelis in the Knesset, as he continues to lobby for the annexation of Judea and Samaria as a part of Israel.
No loyalty, no citizenship, said Avigdor Lieberman in one of his previous election campaigns. But we also can't expect loyalty without citizenship. We can't ask 20% of Israel's citizens to pay their taxes and become a part of society, while the prime minister runs a campaign to exclude them from Israeli politics.