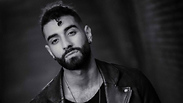 Norway's attorney general ruled Tuesday that a Norwegian Muslim rapper who said "f*cking Jews" during a concert was not engaging in anti-Semitic hate speech, but rather legitimate criticism of Israel.
The initial incident took place in June 2018, when rapper Kaveh Kholardi, who is of Iranian origin, was performing on stage at a municipal festival in Oslo. He asked the audience if there were any Muslims in the crowd. When some people responded, Kaveh wished them a happy Eid. He went on to ask if there were any Jews, and when no one reacted, he said "Fucking Jews." He then said, "Just joking."
According to the Jewish Telegraphic Agency, the organizers of the family-friendly event, which was supposed to celebrate diversity, complained to the rapper. Kholardi had five days before the incident written on Twitter that "f*cking Jews are so corrupt."
Kholardi later claimed that the comment at the concert had been taken out of context and was a joke. He was, the rapper wrote on Facebook, "neither a racist nor anti-Semite."
Local Jewish leader Ervin Kohn complained about the comment to police, calling it hate speech and incitement, but was told that it "falls within the freedom of speech of performance artists to make provocative and satirical statements."
This finding was supported by State Prosecutor Trude Antonsen, who found that while derogatory and offensive, the remark did not constitute a criminal act.
Kohn then appealed to Attorney General Tor Aksel Busch, who on Tuesday dismissed his appeal on the grounds that the "f*cking Jews" remark "seems to be targeting Jews, it can however also be said to express dissatisfaction with the policies of the State of Israel."
Norwegian pro-Israel group MIFF called Busch's decision "alarming" because he "finds ambiguity where there is none," JTA reported.
Israel's deputy ambassador to Norway, Dan Poraz, called the ruling "bizarre."
"The attorney general rejected an appeal against his decision to close the case against the Norwegian rapper who yelled 'F*cking Jews' on the grounds that it could be interpreted as criticism of Israel," he said. "I have lived in Norwary for the last four years and have no doubt that most Norwegians were disgusted by this anti-Semitic comment."