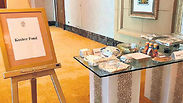 The kosher food section at a February 2019 intefaith conference in Abu Dhabi
Israel's warming relationship with the Gulf states is intensifying – and for the first time, a kosher catering company has been established in Dubai. Kosher food is also expected to soon be a feature on Gulf airlines, and that is not all - a kosher restaurant is also planned for the United Arab Emirates.

The kosher catering company, Kosher Arabia, will serve all the Gulf states. It was founded by Ross Kriel, a Johannesburg-born lawyer who heads the Orthodox Jewish community in Dubai.

At present, the company serves only dairy food, fish and vegetables. For now, it has no kashrut supervisor and it is doubtful that one will ever emerge, but the company passed the kosher test last month when Pope Francis visited the UAE.

The pope attended, among other things, an interfaith dialogue conference in the capital Abu Dhabi, where a kosher dining area was set up for the Jewish attendees.

Also present at the event was US Orthodox Rabbi Marc Schneier, who heads the Jewish-Muslim Interfaith Understanding Foundation and serves as a Jewish affairs advisor to the rulers of the Persian Gulf.

"It was so exciting to stand in line for kosher food in Abu Dhabi at a conference convened by Muslim leaders," says Schneier. "I ate fish and vegetables and a dessert." According to the rabbi, the catering company was established partly to serve Jewish business people and tourists who visit the Gulf.

He is currently discussing the next step with senior Gulf officials - opening a kosher restaurant in Dubai.

"Many Jews visit the Gulf states, and they need kosher food. If there were such a thing here, more Jews would come there and everyone would benefit – the Jews from the kosher food, and the locals are from an increase in tourism.

Schneier said talks are also underway for Kosher Arabia to supply food to the Gulf airlines for the benefit of Jewish passengers.

"These are the steps that symbolize rapprochement," he said.