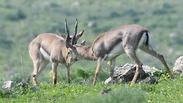 Widlife on the Golan Heights (Photo: Israel Nature and Parks Authority)
Photo: Israel Nature and Parks Authority
The US State Department changed its usual description of the Golan Heights from "Israeli-occupied" to "Israeli-controlled" in an annual global human rights report released by Secretary of State Mike Pompeo on Wednesday.
A separate section on the West Bank and Gaza Strip, areas that Israel captured along with the Golan Heights in the 1967 Six-Day War, also did not refer to those territories as being "occupied" or under "occupation."
According to Israeli journalist Amit Waldman, an official at the State Department said that the language did not reflect a change in US policy, and that the word occupied had not been used due to the fact that the report focused on human rights and not legal issues.
The 2018 human rights report also did not refer to the West Bank as occupied territory. Israel left the Gaza Strip in a unilateral 2005 evacuation known as the disengagement. Since 2007, the Strip has been ruled by the Hamas terror group, with access through Israel and Egypt under strict control by the two countries.
The US government has released a human rights report every year since 2011. Until 2018, the section dealing with Israel and the areas it captured in 1967 was entitled "Israel and the Occupied Territories." This section included Israel, the Golan Heights, the West Bank, Gaza and East Jerusalem.
Last year, however, the section was called "Israel, the Golan Heights, the West Bank and Gaza." There was nonetheless a reference to " 1967, the occupation of the West Bank."
The State Department made clear last year that the change in terminology did not reflect a shift in US policy, but rather due to the decision that using geographical names of the areas discussed would make it easier for the reader.
The report comes two days after Republican Senator Lindsey Graham, visiting the Golan with Prime Minister Benjamin Netanyahu and US Ambassador to Israel David Friedman, called vowed to push for US recognition of Israeli sovereignty over the Golan Heights.
"The Golan is not disputed. It is in the hands of Israel and will always remain in the hands of Israel," Graham said from a cliff overlooking Syria, where Syrian flags could be seen fluttering in the distance on buildings damaged in the country's civil war. "My goal is to try to explain this to the administration," he said.
This is not the first time that the Trump White House has broken with decades of bipartisan American policy on the Middle East.
Last year, the administration moved the US Embassy from Tel Aviv to KJerusalem and recognized the city as the Israeli capital, which the international community had refrained from doing due to the unresolved conflict with the Palestinians and the sensitive nature of the subject of Jerusalem to both Jews and Muslims.