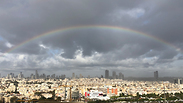 Rainbow above Giv'at Shmuel, with the Tel Aviv skyline in the background
Photo: Ronen Rachamim
Showers, low temperatures and strong winds hit Israel Thursday, and snow is expected to fall in the Golan Heights' Hermon Mount, in what is thought to be winter's last gasp.

In the country's south, thick haze caused very poor air quality, and the Ministry of Environmental Protection warned of high levels of pollution throughout the Negev and the Arava, and advised children, the elderly, pregnant women, and lung and heart patients to avoid aerobic activity and to reduce outdoor activities.

Eilat Airport closed down in the early hours of the morning due to poor visibility, but resumed its activity at 8 am.

Stormy weather and strong winds continue to strike the Mediterranean Sea, with waves reaching 300 centimeters.

The air quality in Israel's south is expected to improve around noon time, as the thick haze, which originated in Egyptian skies, lifts.

The rough weather patch will ease on Friday, which is expected to be cloudy and slightly warmer with only light rains in Israel's north. However, the storm is expected to resume on Saturday with showers throughout the country and perhaps sporadic thunderstorms.

Floods in the Jordan Rift Valley and the Judean Desert are likely to occur, as well as another snowy spell in Mount Hermon.

Sunday morning will bring light rains throughout the country, and will then give way to partially cloudy skies with raising temperatures.