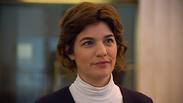 Tamar Zandberg, leader of Meretz
Photo: Yoav Dudkevitch
This election cycle is full of strategy but devoid of values
Opinion: Everyone is talking about voting tactically on April 9, but this is costing Meretz and Labor a dangerous chunk of its electorate; the public is exhausted, and this election season is void of all ideology; is a real leader with real values too much to ask?
G. voted for the left-wing Meretz party in all of the last four elections. In some campaigns, she even offered to volunteer and help out. G. is an Israeli history professor , and is the kind of person that makes sure she reads everything on the platform of every party — and is happy to argue about it, if possible.
"This time," G. told me, "I didn't bother reading. This time my vote is strategic; I'm voting Blue and White."
Yes, sure she has trouble with the agenda that the party's resident rightists Moshe Ya'alon, Zvi Hauser and Yoaz Hendel have been promoting over the years. But, in her words: "beggars can't be choosers."
G. represents the process that many voters have been going through ahead of the upcoming elections. It's true that in every election process, people consider strategic voting. But it seems that this time, strategizing stepped it up a notch. When it comes to center-left voters, thereis one goal - get Bibi (Netanyahu) out. Rightists, "it's either Bibi or Tibi."
And so, Meretz has lost a chunk of its electorate and now finds itself scraping the bottom of the barrel for votes to keep it afloat, while Labor is fighting for its honor.
"The party that built this country," as it's often called, is no longer fighting for first place, or even second. It's now hoping to get seats in the double digits, and Ehud Barak's 13 dismal seats in the 2009 elections seems like a distant dream.
Both parties are struggling against a common enemy that threatens their very existence — Blue and White — but it's a Catch 22 since neither can speak out against Gantz as they fight for their lives. What can the Labor Party say about Gantz after its leader in the Knesset Shelly Yachimovich already admitted they had asked him to join forces?
This phenomena isn't absent on the right either. Small rightist parties can't attack their true enemy, the one that is stealing all their prospective seats— the Likud Party. And the large parties are of course aware of this, and maneuver carefully between trying to get more votes while not entirely decimating their prospective coalition. Both the Likud and Blue and White have given up any sign of firm ideology, and are fostering a deliberate vagueness.
And what of the voters? Well, most have given up on reading party platforms, and searching for a movement that resonates with their values. Strategy is the name of the game. Who President Reuven Rivlin asks to form the 21st Knesset will all be in the size of the blocs.
But the result of these hollow and ideology-void campaigns creates a lack of trust on the part of Israelis, who only get a chance once every few years to cast their vote and promote their chosen values. They don't want an ambiguous semblance of a choice, but the real thing. They want to elect a party that will lead Israel to safety and prosperity, that offers more than magical short-term solutions to the country's problems, and presents a real plan of how to make things better for society and the country's defense.
Israelis are crying out for a party that has real priorities, and sticks to them when its members vote in the Knesset. They are yearning for a party with a plan to heal the terrible divides among them. And that is not such unachievable desire to have.