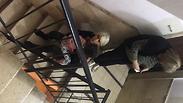 People take cover in Gush Dan
Palestinian militants in Gaza fire two rockets at Tel Aviv area
Iron Dome activated but fails to intercept; strikes come amid Egyptian attempts to mediate lull in violence between Israel and Hamas; Netanyahu calls emergency security meeting; all Palestinian factions so far denied responsibility for the rocket fire
Israeli military confirms two rockets were fired at Tel Aviv area, as rocket alert sirens rocked the entire Dan region in central Israel on Thursday evening. Despite the apparent activation of the Iron Dome air defence system, the military said no rockets were shot down. It said there were no reports of casualties or damage.
Tel Aviv Mayor Ron Huldai said he had ordered the city to open public air raid shelters as a protective measure. The decision was followed by several other municipalities in central Israel.
There was no immediate claim of responsibility in the enclave, where its dominant Hamas group has been engaged in talks with Egypt on a long-term ceasefire with Israel. In addition, the Palestinian Islamic Jihad terror group—initially thought to be behind the attack—denied any involvement in the rocket fire.
The Hamas armed wing said in a statement it was also "not responsible" for the firing of the rockets "towards the enemy. They were fired as a meeting was underway between the leadership of the Hamas movement and the Egyptian security delegation over the understandings regarding the Gaza Strip."
The attacks came as Gaza rulers Hamas sought to contain riots by Palestinians in the coastal enclave and security experts in Israel speculated that the domestic disturbances could lead the terror group to strike Israel as a diversion.
Rockets fired at Tel Aviv area
"No rocket fell in any built-up area," military spokesman Brigadier-General Ronen Manelis told Israel Radio, declining to provide further operational details. "This was basically a surprise," Manelis said, adding that Israel had no advance intelligence warnings of the rocket fire.
"We don't know who carried it out (but) the Hamas organization is the main organization in the Strip. It is responsible for what happens within the Strip and what emanates from it."
Prime Minister Benjamin Netanyahu convened an emergency security meeting at the Kirya military headquarters in Tel Aviv following the event. Finance Minister Moshe Kahlon said on Twitter that Israel "would respond as necessary" to the rocket attack. Other Israeli political leaders from across the spectrum called for a response to the rocket fire.
Following the rocket fire, Hamas evacuated all its headquarters in the Gaza Strip in anticipation of a possible retaliation by Israeli military. A delegation of senior Egyptian intelligence officials, currently in Gaza, is also expected to leave in the upcoming hours.
Reuters contributed to this report