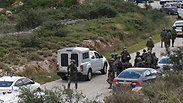 Security forces at the scene of the attack (Photo: Yariv Katz)
The Israel Defense Forces launched a massive manhunt for a gunman who shot dead one person and wounded two others - one seriously and one critically - in a Sunday morning attack close to the West Bank settlement of Ariel.
"We are in the midst of pursuing these terrorists," said Prime Minister Benjamin Netanyahu at the start of the weekly cabinet meeting. "I am sure they will be captured and brought to justice, just as others who committed similar attacks."
According to security sources, the attacker, who was apparently Palestinian, stabbed an IDF soldier and seized his gun at Ariel Junction.
He then shot the soldier and opened fire at passing cars, hitting a driver, before stealing another car to escape.
The gunman continued driving towards the Gitai Junction on Route 5, some 2.5 km from Ariel Junction, where he shot another soldier.
"I saw the terrorist," the driver of the stolen car told Ynet. "He opened fire at my vehicle and I fled while the engine was still running. The terrorist then stole the car, and I saw him keep driving in direction of Tel Aviv."
The attacker abandoned the stolen vehicle near the Palestinian village of Bruchin. Palestinians in the area were reportedly encouraged to take down security cameras in order to make the hunt for the gunman more difficult.
Security forces then began checks of every vehicle driving on the road, fearing that the gunman would try to reach central Israel in another vehicle.
Israel deployed a large number of security forces to the area in the wake of the attack, including Border Police special forces. The IDF also placed heavy machinery at the entrance to Burchin, including bulldozers.
The two surviving victims were taken for treatment to the Beilinson Hospital in Petah Tikva. "I was passing the Ariel Junction in a car when I heard gunfire and saw soldiers running," said Magen David Adom paramedic Hanannel Hass. "When the gunfire stopped, I got out of the car and saw a young man lying unconscious with gunshot wounds to his upper body."