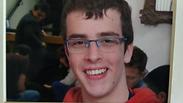 The IDF soldier killed Sunday morning in a West Bank shooting attack was named as Staff Sergeant Gal Keidan, aged 19 from Be'er Sheva.
A combat soldier, Keidan was killed when a Palestinian attacker stabbed him and seized his weapon at Ariel Junction, close to the settlement bearing the same name.
The attacker then apparently shot Kaidan with his own gun before fleeing the scene in a stolen car. The gunman later shot and wounded two other people.
Keidan was a member of the Artillery Corps, from the "Fire" brigade. He will be laid to rest at 11am Monday at the military cemetery in his hometown.
The IDF launched a massive manhunt to track down the attacker, and was searching local villages as well as all vehicles heading from the area into central Israel.
One of the wounded was identified Rabbi Ahiad Ettinger, aged 47, a resident of the West Bank settlement of Eli and a father of 12.
Doctors at Beilinson Hospital were fighting to save the rabbi's life after he was left in critical condition in the shooting attack.
For the past three years, Rabbi Ettinger has been the head of the Oz and Emunah hesder yeshiva (seminary that combines religious study with IDF service) in the Neve Sha'anan neighborhood of southern Tel Aviv.
Rabbi Ettinger's neighbor, Aviad, told Ynet: "We are praying for a miracle and his recovery. We will be organizing prayers for him at the settlement."
The Ettinger family asked for people to pray for the rabbi's recovery.