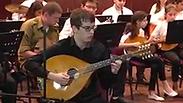 Gal Keidan
Screenshot: YouTube
For the students and teachers at the Conservatory of Music in Be'er Sheva, 19-year-old Staff Sgt. Gal Keidan, who was killed in a terror attack on Sunday, left a deep impression.
"Gal was a child who always had a smile on his face," Sharona Kapon, former deputy director of the conservatory, told Ynet. "He had a great joy for life and a kind heart which was evident in everything he did. He was an excellent student and devoted to music. He studied thoroughly every music piece he played and when he played it, you saw that he played it with love.
"Thanks to Gal's love for the mandocello instrument, another student decided to follow his path. Today he is an outstanding musician in the IDF and was even to play at Gal's funeral."
The soldier was killed Sunday in a shooting attack at Ariel Junction in the northern West Bank, and was posthumously promoted from sergeant to staff sergeant. He was to be laid to rest at 11am Monday in the military cemetery in his hometown.
Rabbi Achiad Ettinger, a father of 12 from the settlement of Eli, succumbed to his wounds from the attack on Monday morning. A third victim, IDF soldier Alexander Dvorsky from Nazareth Illit, is still in serious condition at Beilinson Hospital.
Video of Gal's final recital as a student of the Conservatory two years ago shows Kapon praising him as a "charming boy" who was an inspiration to others and who deserved acclaim for his mastery of a rare instrument.
"Not only are you are the sole musician in the country who specializes in this instrument, you may even be that on a global level," she says. "You deserve so much applause for your courage in accepting the challenge to take on something that could make you an example for future generations. Keep playing, never stop playing! We love you."
The recital was Gal's last appearance at the school as a soloist, after which he appeared only as a guest musician. The final performance was attended by his parents and his brother, Erez, who also studied at the Conservatory.
Gal Keidan's last recital (צילום: מתוך עמוד היוטיוב שלanatolyk59)
The director of the Conservatory, Jacob Reuven, called Gal a rare breed, a quiet boy who was extremely smart, and who like Reuven played the mandolin, but chose to specialize in the mandocello.
"He did so with expertise and finished his studies with distinction," Reuven said. "He did everything modestly, and was always the first to volunteer. He was smart and kind."
Reuven said that news of Gal's death had shocked the entire conservatory. The school posted a message on Facebook on Sunday, expressing their sorrow at Gal's death and showing images of him during his time there.
"With deep regret and deep shock, we announce the death of Conservatory graduate Gal Keidan in the murderous attack this morning in Ariel," the Conservatory wrote in Hebrew.
Gal was born to a couple who immigrated to Israel from the Soviet Union in the 1970s. He is survived by his parents and two brothers.
"This is a great loss for his family and friends," said a relative.