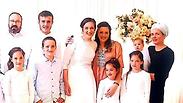 The Ettinger family
Photo: Courtesy
Thousands of people turned out Monday to pay their last respects to Rabbi Achiad Ettinger as he was laid to rest, hours after the father of 12 succumbed to wounds sustained in Sunday's West Bank terror attack.

The funeral for the rabbi began at his home in the West Bank settlement of Eli before continuing at the Segula cemetery in the central town of Petah Tikva.

The rabbi died Monday morning, a day after he was critically wounded in the terror attack at Ariel Junction. Staff Sgt. Gal Keidan, 19, was also killed in the attack, and fellow soldier Alexander Dvorsky is fighting for his life at Beilinson Hospital in Petah Tikva. Staff Sgt. Keidan was buried earlier Monday at the military cemetery in Be'er Sheva; his family requested no media coverage.

Education Minister Naftali Bennett eulogized the rabbi as a "hero of Israel" and exhorted his family not to let terrorism defeat them.

"This wonderful family here in Eli will wipe away their tears and carry on, because that is what we do here in Eli, in Judea and Samaria (West Bank) and in all of the Land of Israel," he said. "We grow stronger, but this pervasive evil, which repeatedly cuts down the best of us, must be defeated."

Ettinger, who ran the Oz and Emuna Yeshiva in the Neve Sha'anan neighborhood of south Tel Aviv, is survived by his wife, 44-year-old Tamar, and their 12 children. Their daughter Moriah, 21, is married and lives in the Jewish Quarter of Jerusalem's Old City. She is due to have her first child in the coming weeks.

"Father, I want to apologize to you for two things. Firstly, for the times I have disrespected and upset you," eulogized the son, Elishev. "Secondly, for not being able to avenge your death, because we have to continue with our lives."

Efrat, his 20-year-old daughter, is volunteering in Tiberias for her national service and 19-year-old Eliashiv is in performing his army service in an elite unit. The other nine children are Harel, 18; Eliasaf, 16; Yehuda, 13; 11-year-old twin girls Techia and Sofia; Benia, 9; 7-year-old twins Eliav and Hadas; and 18-month-old girl Roni.

"Dad, how is it that you—who had brought so much life into the world—is no longer with us," eulogized Efrat. "The damned terrorist thought he was ending a life, but he didn't know how much life you've left behind."

At the yeshiva in south Tel Aviv run by Rabbi Ettinger, shocked staff and students gathered in the synagogue after his death was announced.

"His dream was to make this area bloom," one said.

The Ettinger family announced that they had decided to donate the rabbi's organs, in order to save other people's lives.

"Since the attack, we are discovering that (his) personal qualities were on display in his final moments, as he sought to confront the terrorist and fired his weapon four times, without a thought for himself or his family," the family said.

"This self-sacrifice has characterized him over the years, when he and his family set up home in south Tel Aviv, established a yeshiva, strove to strengthen Jewish identity, and to assist the families and neighborhoods in south Tel Aviv."