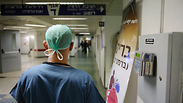 Doctor at Ichilov Hospital in Tel Aviv
A new report says that the top earner in Israel's public sector in 2017 made a staggering NIS 252,784 (aprox. $70,000) per month before tax - a sum that a person making minimum wage would have to work for around 50 months to match. Meanwhile, women in public sector jobs made on average just 65% of the salaries of their male counterparts.

In recent years, top wage earners have made a monthly salary that has crossed the NIS 100,000 mark (approx. $27,000), according to the report published Monday by Israel's Wages Commissioner Kobi Bar-Natan, which examines salaries across 801 public institutions for the year 2017.

Five senior officials in these institutions are paid well above NIS 100,000, including three physicians, the director general of Israel's Aerospace Industries and a senior employee at Rafael Advanced Defense Systems, whose job is confidential.

The comprehensive 101-page report, submitted by Bar-Natan to members of the Knesset during the lawmakers' recess ahead of the April 9 elections, reveals that the average wage for public sector workers in 2017 was NIS 16,088 (approx. $4,500). This is an increase of 1.6% (adjusted for inflation) compared to the average wage in 2016, which stood at NIS 15,795.

The average wage in Israel in 2017 was slightly less than NIS 10,000, with a minimum wage of NIS 5,000, which is less than a third of the average wage in the public sector.

The second place in the list of top wage earners in the public sector was a specialist in ophthalmology at the Clalit Health Services, with a gross monthly income of NIS 181,954. In third place is the senior director of a surgical unit in Clalit, with a gross monthly income of NIS 160,492.

Rounding out the top 15 high-earners in the public sector are:

Israel Aerospace Industries (IAI) CEO Yossi Weiss — NIS 125,549 per month
The senior Rafael employee whose job is confidential — NIS 113,980 per month
A navigator at the port of Ashdod —NIS 99,373 per month
ELTA Systems CEO Nissim Hadas — NIS 98,160 per month
Israel Electric Corporation CEO Ofer Bloch — NIS 97,190 per month
A surgeon at Ichilov Hospital, Tel Aviv — NIS 94,449 per month
Maccabi Healthcare Services CEO Ran Saar — NIS 93,538 per month
Pi Glilot Oil and Pipe Terminals CEO Avi Dotan—NIS 92,108 per month
Open University President Prof. Yaakov Metzer — NIS 90,990 per month
Bnai Zion Medical Center Director Dr. Amnon Rofe — NIS 90,409 per month
The leading physician for the National Insurance Institute — NIS 90,006 per month
Israel Airports Authority legal advisor Aryeh Shaham — NIS 87,287 per month

Wages Commissioner Kobi Bar-Natan told Ynet that he chose to release the salaries of the highest earners in various public institutions, as almost all of the top 100 places on the list were taken by doctors. A number of physicians at Clalit, for example, receive a higher salary than the IAI CEO, who ranks fourth in the list.

The average gross wage for women in the public sector was just 65% of what their male counterparts earned - with an average wage for men of NIS 20,274 NIS and NIS 13,090 for women.

There was also a significant gap between male CEOs who received 41,629 NIS on average compared to: 33,286 NIS for a female CEO. The gap is on average 4,031 NIS throughout the entire economy: 11,664 NIS on average for men, compared to 7,633 NIS for women.


Best paid jobs
Topping the list for average monthly wages were Haifa port employees, at NIS 33,078. Ashdod port workers rank second at NIS 29,860, while the Israel Ports Company comes in third with NIS 28,960. In fourth place were employees of the Bank of Israel with an average salary of NIS 28,085, followed by employees of the Israel Electric Corporation (IEC), who earn an average of NIS 27,432.

At the other end of the scale, however, 42.6% of public sector employees, about 200,000 people, made a monthly salary lower than the average wage in 2017.

Religious council employees rank at the bottom of the list, making just NIS 6,114, while employees of academic institutions earned a monthly salary of NIS 6,369 NIS. Municipal employees and employees of municipal companies earned NIS 6,895 and employees of some government companies earned NIS 7,133 NIS.

The average salary of for full-time public sector social workers was NIS 13,603. Following a wage agreement for middle school and high school teachers, the average salary of a teacher rose from NIS 8,587 to NIS 9,901. The salary for a newly qualified teacher rose from NIS 6,400 to NIS 8,500 per month.



The salaries of veterinarians rose by 11% in 2017, the highest rate of annual increase among all the rankings. The salary of a veterinarian was NIS 31,000 before tax per month on average.