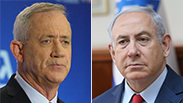 Netanyahu, Gantz trade blows over Iranian phone hack, submarine affair
PM repeats allegation that former IDF chief had sensitive information on device reportedly breached by Tehran, while Blue and White party seeks to link Likud leader to police probe into suspected bribery in purchase of German-made vessels
Prime Minister Benjamin Netanyahu on Wednesday sought to paint Benny Gantz as vulnerable to blackmail by Iran, accusing him of hiding the fact that there was sensitive information on a cell phone allegedly hacked by Tehran. Gantz soon hit back, with his Blue and White party hinting at the prime minister's connection to a police corruption investigation.

"Benny Gantz what are you hiding from the Israeli public?" Netanyahu said during a press conference from his official Jerusalem residence. "What do the Iranians know about you that you are not telling us? What classified information do the Iranians have on you that you are not revealing even to your fellow party members?"

The prime minister, whose Likud party is more or less tied with Gantz's Blue and White Party with just weeks to go before the April 9 elections, said that the alleged hack was "a matter of national security."

Gantz has insisted that there was no sensitive information on the phone. Iran has denied any role in hacking the device.

Netanyahu's language echoed that of Gantz earlier in the day, when the former army chief said that the purchase of vessels from German shipbuilder ThyssenKrupp had "security and strategic implications" for the State of Israel, and called for a full investigation into the affair.

The investigation into the sale, known as Case 3000, deals with suspicions that Israeli officials unlawfully profited from the acquisition of three submarines and four patrol boats, which were earmarked to secure Israel's gas fields in the Mediterreanean Sea. Police suspect that substantial bribes were paid to Israeli officials to guarantee that the sale was completed.

While the prime minister has not been directly implicated in the 2 billion-euro deal, a number of his associates, including his personal lawyer and cousin David Shimron, attorney Yitzhak Molcho, former chief of staff David Sharan, former Navy commander Eliezer Marom and former National Security Council deputy chief Avriel Bar-Yosef, have been detained and/or questioned.

On Tuesday, key state witness Miki Ganor, who was ThyssenKrupp's agent in Israel, announced that he was changing his statement about the affair, which backed up police suspicions of bribery and corruption in the sale, and was promptly arrested as his immunity in the investigation had been lifted.

Netanyahu congratulated the security forces on the killing of the terrorist who shot dead two people in the West Bank on Sunday, before quickly moving on to attack the Blue and White party and its leaders, accusing them of dredging up stale information on the submarine purchase in an effort to discredit him politically.

"(Yair) Lapid and Gantz have reached a new low, and in recent days have been pushing old information," Netanyahu said. "The reason for this panic is clear – it is because Iran broke into Gantz's phone and took sensitive information."

The Blue and White party swiftly hit back at the prime minister, linking him to Case 3000 with the receipt of "NIS 16 million from a company that does business with the submarine manufacturer."

Mimicking Netanyahu's own words, the party asked: "Why did you hide it from the public?"