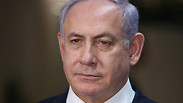 Benjamin Netanyahu
Photo: Amitai Shabi
Netanyahu facing new police probe into massive payout for shares in sinking steel company
Prosecutors want to know why PM received 400% more than purchase price for his shares in SeaDrift a day before it merged with company selling parts to German shipbuilder at center of another Israeli police probe
Sources in the State Prosecutor's Office believe that Prime Minister Benjamin Netanyahu could be facing yet another criminal investigation, this time into the massive profts from shares in a Texas steel plant managed by a relative while it was performing poorly, Israeli television reported Wednesday.
According to the Israeli media, Netanyahu's shares in the SeaDrift factory quadrupled in value between 2007 and 2010, despite a poor performance by the plant.
Haaretz said that Netanyahu acquired SeaDrift shares worth some NIS 4 million (approx. $1.1 million) in 2007, when he was head of the opposition and Ehud Olmert was prime minister. Netanyahu sold his shares in the factory, which is managed by his cousin Nathan Milikowsky, on November 29, 2010 - approximately a year and a half after he was elected prime minister.
Milikowsky himself bought the shares, through one of his own companies. According to Haaretz, he received at least NIS 16 million for the sale, roughly four times the value of the shares when he acquired them, despite a dramatic downturn in the performance of the company.
The State Prosecutor's Office is examining when Netanyahu received the shares and why, the Israeli TV reports said. Investigators suspect that the inflated value could be disguising a gift worth millions of shekels, Haaretz newspaper reported. Investigators also want to know why Netanyahu asked his personal lawyer and relative David Shimron for a loan in order to pay the taxes on the sale.
The day after the sale was completed, SeaDrift merged with a company called GrafTech International, which had previously held 19% of SeaDrfit shares, and which supplied parts to ThyssenKrupp, the German shipbuilding company at the center of a separate Israeli police investigation known as Case 3000.
The investigation into Case 3000 deals with suspicions that Israeli officials unlawfully profited from the acquisition from ThyssenKrupp of three submarines and four patrol boats, which were earmarked to secure Israel's gas fields in the Mediterranean Sea. Police suspect that substantial bribes were paid to Israeli officials to guarantee that the sale was completed.
While the prime minister has not been directly implicated in the 2 billion-euro deal, a number of his associates, including his personal lawyer and cousin David Shimron, attorney Yitzhak Molcho, former chief of staff David Sharan, former Navy commander Eliezer Marom and former National Security Council deputy chief Avriel Bar-Yosef, have been detained and/or questioned.
On Tuesday, key state witness Miki Ganor, who was ThyssenKrupp's agent in Israel, announced that he was changing his statement about the affair, which backed up police suspicions of bribery and corruption in the sale, and was promptly arrested.
Netanyahu has denied any connection to GrafTech International, and insisted he and Milikowsky had never discussed the company.
The business partnership between Netanyahu and Milikowsky came to light when the prime minister sought to receive aid from his cousin to pay legal costs stemming from the three other criminal investigations into his activities.
The State Comptroller's Committee, rejected Netanyahu's request for funding, but said that information provided by the prime minister in a previous request in 2009 revealed that he and Milikowsky jointly owned shares in a steel company.
The prime minister's Likud party hit back at the television reports Wednesday, accusing Netanyahu's political rivals of leaking the details of the investigation.
"Twenty days before the elections, there are leaks to the media about an attempt to open another investigation into Prime Minister Netanyahu," the party said.
"Only the citizens of Israel will choose their prime minister - a right-wing government headed by Netanyahu or a left-wing government headed by Yair Lapid and Benny Gantz."