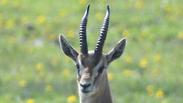 Wildlife on the Golan Heights
Photo: Parks and Nature Authority
Israeli and American officials say they expect an announcement on US recognition of Israeli sovereignty over the Golan Heights as soon as next week, when Prime Minister Benjamin Netanyahu visits Washington. The officials spoke on condition of anonymity because the information had not yet been made public.

While US Secretary of State Pompeo avoided the issue of sovereignty over the Golan during his visit to Israel on Wednesday, he lauded the White House's warm ties with the Jewish state and promised to step up pressure on Iran, giving a public boost to Netanyahu at the height of a tight re-election campaign.

Netanyahu accused Iran of attempting to set up a terrorist network to target Israel from the Golan, and said that the territory was a buffer to keep Israel's enemies at bay.

"You could imagine what would have happened if Israel were not in the Golan," he said. "You would have Iran on the shores of the Sea of Galilee."

The White House meanwhile announced that Netanyahu would be welcomed in Washington over two days next week, with Israel just two weeks from the April 9 polls.

Standing together, neither Netanyahu nor Pompeo made mention of the heated election campaign. But Netanyahu, facing a tough challenge from popular former military chief Benny Gantz and reeling from a string of corruption investigations, has repeatedly sought to focus attention on his foreign policy record and strong ties with President Donald Trump.

Blasting Iran for its anti-Israel stance, Pompeo touted last month's Mideast conference in Poland, where he said dozens of countries discussed ways "to stop Iran's regional rampage."

Accusing Iranian leaders of seeking the "annihilation and destruction" of Israel, he pledged continued American support. "With such threats a daily reality of Israeli life, we maintain our unparalleled commitment to Israel's security and firmly support your right to defend yourself," he said.

A change in the US view of Israeli sovereignty over the Golan Heights, which it captured from Syria in the 1967 Six-Day War, along with the West Bank from Jordan and the Gaza Strip from Egypt, was hinted at last week when the State Department changed its usual description of the plateau from "Israeli-occupied" to "Israeli-controlled" in an annual global human rights report.

A separate section of the report on the West Bank and Gaza Strip also did not refer to those territories as being "occupied" or under "occupation."

Republican Senator Lindsey Graham earlier this month also vowed to push for the US to recognize Israeli sovereignty over the Golan Heights.

The South Carolina politican made his pledge during a tour of the frontier with Netanyahu and US Ambassador to Israel David Friedman.

"The Golan is not disputed. It is in the hands of Israel and will always remain in the hands of Israel," Graham said from a cliff overlooking Syria, where Syrian flags could be seen fluttering in the distance on buildings damaged in the country's civil war. "My goal is to try to explain this to the administration," he said.

In past negotiations, Syria has demanded a withdrawal from the Golan as part of any peace deal. With Syria ravaged by a nearly eight-year-old civil war, peace talks with Israel seem unlikely anytime soon.

Graham called the prospect of Israeli withdrawal from the Golan "a strategic nightmare" and political "suicide," citing shared Israeli and American concern over Iranian entrenchment in neighboring Syria. Israel has admitted to carrying out scores of airstrikes in Syria against Iranian targets in recent years.

A beaming Netanyahu applauded Graham's remarks and asserted that Israel would never give up the land.

Netanyahu considers Iran to be Israel's greatest threat. In recent years, Israel has carried out many airstrikes in Syria to halt what it says are Iranian arms transfers to the Hezbollah militant group, and to prevent Iran from establishing a permanent military presence in the country. Iranian and Hezbollah forces have been supporting Syrian President Bashar Assad's troops since the early days of the eight-year civil war.

Netanyahu said he was working closely with the U.S. "to roll back Iranian aggression" in the region and around the world. "There is no limitation to our freedom of action and we appreciate very much the fact that the United States backs up our actions," he said.

He also welcomed last year's U.S. withdrawal from the international nuclear deal with Iran, as well as tough U.S. sanctions that were re-imposed on the country.

"This pressure is working," he said. "We need to increase it. We need to expand it."

Netanyahu is one of Trump's strongest backers on the global stage. Since taking office, Trump has upended U.S. policy and taken a series of steps welcomed by Israel, most notably by recognizing contested Jerusalem as Israel's capital and moving the US Embassy there from Tel Aviv.