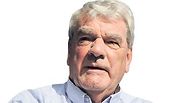 Discredited British historian and Holocaust denier David Irving, who was jailed in Austria for his views on the genocide of the Jewish people, is offering tours of WWII death camps apparently to examine the subject of "Nazi history."

The tours are being marketed under the title "Controversial Camps," and are set to include visits to Treblinka, Sobibor, Majdanek and Belzec, all death camps associated with Operation Reinhard, the Nazi plan to wipe out European Jewry in its entirety. Six million Jews - two thirds of European Jewry and one third of the world's Jewish population - were murdered by the Nazis.

Irving has begun collecting fees for the tours via his website and is even offering early bird discounts. The tours are set to take place beginning in September, over a period of nine days. Irving stated in advance that there will be no refunds if, for whatever reason, he or the group are banned from entering any of the camps.

Irving bills himself as an expert on Adolf Hitler and guarantees that the tour will also include a visit to Hitler's bunker, which today is buried under a parking lot in Berlin.

In 2011, during a visit to Majdanek, Irving claimed that the crematoria there were "fake and were built after the Second World War."

In lectures to school students, Irving tells the pupils to be skeptical regarding what their teacher tells them about the gas chambers in the death camps.

The Auschwitz-Birkenau Memorial and Museum condemned Irving's intention to give tours of the camps and expressed hope that they would not in fact take place.

"Holocaust denial is a false conspiracy theory. Despite the fact that factually it is similar to claims of the earth being flat, it is actually dangerous and is used to conceal anti-Semitism and hatred. The presence of Holocaust deniers at sites of the genocide is an insult to the victims," they stated.