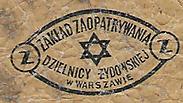 The note attached to the Purim basket
After 77 years, the discovery of a small note attached to a Purim basket from the Warsaw ghetto in 1942 illustrates the sacrifice made by Jews who chose to observe the religious holidays, even as their loved ones were starving to death in front of their eyes.
A Polish man stumbled upon the note by mistake, but did not fully understand its significance. Nearly 80 years later, his son contacted the Shem Olam Faith & the Holocaust Institute, where it was recognized for its importance as a glimpse of Jewish life under the Nazis.
The note attached to the Purim basket - a holiday in which gift-giving is traditional - is also evidence of the unimaginable reality of life in the ghetto. The envelope bears the stamp of "the company that supplies the Jewish quarter in Warsaw" and a Star of David, and underneath in Hebrew is printed "Purim 1942."
The envelope also includes an instruction to "check the weight" of the small 100g parcel of ginger cookies within, implying that it was not to exceed the daily limit of calories that the Nazis allowed each Jew in the ghetto.
The Jews in the ghettos did tough physical labor under extreme conditions on 500 calories per a day; every loaf of bread or bowl of soup was essential to their physical survival. (According to British government guidelines, men should have an intake of around 2,500 calories per day, while women should consume around 2,000 calories daily.)
Shem Olam chief Rabbi Avraham Krieger calls the discovery unique as it "reflects a willingness by the Jews in the ghetto to observe their traditions despite the chaos and hunger that was a part of their everyday life, and despite the risk of dying for observing a holiday tradition."
Krieger added: "The Purim holiday had a strong meaning for the Jews in the ghetto because they saw Hitler as `Haman` of their time, and prayed for his defeat.
"The amount of cookies was small but it was so much more. had a much bigger spiritual meaning. It was a symbol of the Jews' battle to preserve their spirituality and their faith, as well as a human, social framework to keep their lives together."