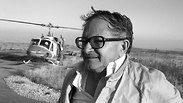 Eitan
Photo: Davind Rubinger
Politicians and prominent cultural and public figures accompanied Rafi Eitan, who died at Tel Aviv's Sourasky Medical Center Saturday, on his final journey Sunday. "Rafi was the most intelligent, competent, responsible and creative ministers in the government," said former prime minister Ehud Olmert, in whose government Eitan served as minister for senior citizen affairs.

Eitan was one of the founders of the country's intelligence infrastructure and went on to form a political party and serve as a cabinet minister. In the 1980s, Eitan headed the agency responsible for handling Israeli spy in the US Jonathan Pollard.





Attendants at the funeral spoke glowingly of his contribution to Israeli security and prosperity calling him a man whose life was "a mission for the Jewish people."

Eitan was born at Kibbutz Ein Harud, near Mt. Gilboa in northern Israel. He was schooled at the agricultural school in Ein Hashlosha and joined the pre-state elite fighting force of the Haganah, the Palmach, where he studied intelligence and combat. His hearing was impaired in an injury he suffered during a mission and he suffered another more severe injury during the 1948 War of Independence.

In 1955, Eitan was recruited to the operation's unit of the Mossad where he took part in many clandestine missions on behalf of the state, including the capture of notorious Nazi Adolf Eichmann in Argentina to bring him to justice in Israel. He also participated in sabotage operations against German scientists working in Egypt on armaments.

In 1972, Eitan left the Mossad and became involved in various businesses before serving as an adviser to the government on security matters. He was appointed head of Lekem, an Israeli intelligence agency that collected scientific and technical intelligence abroad from both open and covert sources, particularly for Israel's nuclear program; NSA analyst Jonathan Pollard was recruited under his watch.

In 1985, US intelligence agencies arrested Pollard for espionage and relations between the two countries suffered a setback. Eitan stepped down from his post and took full responsibility for the debacle and he returned to the private sector (where his connections to Cuban leader Fidel Castro made him very successful).

In 2006, he became head of the Pensioners Party which garnered an unexpected seven Knesset seats and Eitan became a minister under Olmert. His autobiography is expected to be released soon.