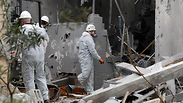 The scene of the attack
Photo: EPA
The scene of the attack: Wounded family, destroyed home and dead pets
Residents of the Sharon region were awoken a little after 5am by air raid sirens - a sound they had not heard for almost five years - and while they scrambled for their secure rooms, for one household, the nightmare was just beginning
Hundreds of thousands of people in the Sharon area of central Israel were woken up at 5:18am to rush to their secure rooms as sirens wailed across the region.

A rocket fired from the Gaza Strip - at least 80 kilometers – landed in Moshav Mishmeret, where local residents had not heard an air raid siren since Operation Protective Edge in 2014.

For one family, the nightmare was just beginning, for the rocket struck their home directly, leaving seven people wounded and killing their dogs.

The rocket smashed through the roof of the house and exploded on the floor, creating a crater in the ground and sending the shrapnel flying through all areas of the house. The rocket was stuck in the ground and efforts were being made by the security forces to extract it.

"It's a miracle that nobody got killed," said Assi Dvilanski, a Magen David Adom paramedic who was one of the first responders at the scene.

Images from the scene of the rocket strike showed massive destruction. Parts of the house collapsed, showering a bedroom and the baby's crib inside with tiles and shingles. Rescue forces who arrived the scene began destroying parts of the building.

According to Finance Minister Moshe Kahlon, who visited the scene of the attack, the family believes that their secure room saved their lives.

Smadar Castelnovo, a Mishmeret resident who lives opposite the destroyed house, said they were woken up shortly after 5am.

"We heard the siren and we didn't think it was anything, but my daughter made us go into the reinforced room," said Castelnovo, still in her pajamas.

"My daughter was upset because we had left the dog out. We went out to get the dog and as soon as we went back in there was a very loud boom," Castelnovo said.

Islamic Jihad had already announced that "Israel's crimes against the (security) prisoners would change the situation," referring to Israel's decision to jam the signals of cell phone smuggled into its jails - and a short time later the rocket was launched from the Gaza Strip.

Hours before the launch, two wardens were stabbed and wounded in a riot at Ketziot Prison in the Negev. Eleven prisoners were also hurt, including two who were in critical condition.