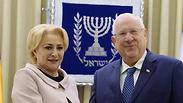 Romanian Prime Minister Viorica Dancila with President Reuven Rivlin
Photo: GPO
Jordan king cancels Romania trip over Jerusalem embassy move
On Sunday, Romanian Prime Minister Viorica Dancila told a conference in Washington that her country was moving its embassy in Israel to Jerusalem; Honduran president declared his country open a diplomatic mission in Jerusalem as an extension to existing embassy
Jordan's King Abdullah II has canceled a visit to Romania to protest its prime minister's support for recognizing Jerusalem as Israel's capital. The Royal Hashemite Court said Monday that the decision came "in solidarity with Jerusalem." Abdullah was scheduled to visit Romania later in the day.

On Sunday, Romanian Prime Minister Viorica Dancila told a conference in Washington that her country was moving its embassy in Israel to Jerusalem. Addressing the annual conference of American pro-Israel lobby AIPAC, Dancila finished her speech with the Hebrew phrase, "next year in Jerusalem."

While this is not the first time that Dancila has declared her intention to transfer the Romanian embassy to Jerusalem, it is the president of the country who has the authority to make such a decision regarding foreign affairs - and Klaus Lohannis torpedoed the move last time she made such an announcement.

Dancila's previous attempt to relocate the embassy, in April 2018, prompted Romanian opposition leader and National Liberal Party leader Ludovic Orban to file a criminal complaint against her for visiting Israel and hiding information from Lohannis.

In the complaint, Orban stated that Dancila had violated the Romanian constitution by approving an order to start transferring the embassy to Jerusalem. According to the division of powers in Romania, only the president is authorized to formally visit foreign countries and any foreign visit by the prime minister requires his approval.

Also speaking at the conference, Honduran President Juan Orlando Hernandez declared that his country would immediately open a diplomatic mission in Jerusalem as an extension to the Honduran embassy in Rishon Lezion.

Honduras intends to open a trade mission in Jerusalem similar to the one opened by Hungary last month. Hernandez promised Prime Minister Benjamin Netanyahu that he would move the embassy when the two met in Brasilia in January for Jair Bolsonaro's inauguration as Brazilian president, but so far that has not happened.

The Romanian and Honduran announcements follow a declaration by US President Donald Trump last week that the United States would recognize Israeli sovereignty over the Golan Heights, which along with the West Bank, Gaza Strip and East Jerusalem, was captured from enemy forces in the 1967 Six-Day War.