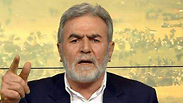 Head of Palestinian Islamic Jihad, Ziad al-Nakhla
The head of Palestinian Islamic Jihad, Ziad al-Nakhla, said Monday that if Israel launches an attack on Gaza, it would provoke a "powerful response" from the factions in the Strip.

The statement comes in light of an anticipated Israeli retaliation to a Gaza rocket fire that destroyed a residential house in central Israel, wounding seven people, early Monday morning.

Prior to the rocket attack, Islamic Jihad issued an earlier threat following a large-scale altercation between Palestinian prisoners and guards at Ketziot Prison in southern Israel, likely due to Israel jamming the signal of cell phones smuggled into the prison.

The incident began when several Hamas prisoners stabbed two prison guards, moderately wounding one of them. In an ensuing brawl, 11 prisoners were wounded, two of them critically.

"Israel's crimes against the prisoners will change the situation … Israel will bear consequences for its aggression that will be felt by soldiers and citizens," the terror group said in an official statement just hours before the militants in Gaza launched a long-range rocket at the Sharon region, northeast of Tel Aviv, for the first time since 2014 Operation Protective Edge.

Hamas issued a more muted response following the Ketziot Prison incident, calling on the international human rights organizations to intervene in the way Israeli security forces treat Palestinian prisoners and to protect them from "the ongoing Israeli crimes."

"We must act swiftly on all arenas, in cooperation with all the institutions … in order to protect the Palestinian prisoners and to force Israel to stop commiting crimes against them and to respect their rights," Gaza's rulers said in a statement.

The IDF accused Hamas of carrying out Monday's pre-dawn rocket strike, and said troop reinforcements - including reservist soldiers - were being deployed to the Gaza border.

As Israel pointed the finger at Hamas for the rocket fire, the group's leaders apparently went underground. Witnesses reported seeing Hamas evacuating its personnel from government premises. Hamas also announced that its Gaza chief, Yahiya Sinwar, had cancelled a scheduled public speech. Israel also shut down its main crossings into Gaza and imposed restrictions on fishing off the Gazan coast.

The rocket attack, which came a little after 5am, directly hit a family home on Moshav Mishmeret in the center of the country. Seven people were wounded and the house was decimated. Four family dogs were killed in the attack.