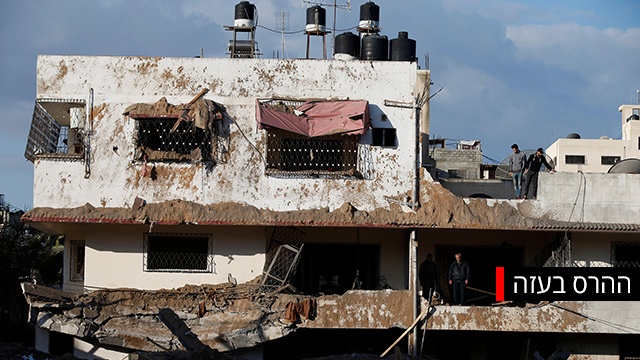 A Gaza building hit in an IAF strike
The Israel Defense Forces on Tuesday morning released footage showing Israeli warplanes bombing and destroying Hamas buildings in the Gaza Strip the night before.

The hostilities followed a long-range pre-dawn rocket strike, apparently launched by Hamas in Gaza, that totally destroyed a home in the small community of Mishmeret, north of Tel Aviv. Seven people, including an infant, were wounded in the surprise attack.

The IDF struck back in a wave of attacks that began Monday evening, a little before 6pm. The army said that Israeli warplanes and tanks attacked dozens of targets belonging to Hamas and Islamic Jihad across the Gaza Strip.

Footage of IAF strikes in Gaza (צילום: דובר צה"ל )

Among the targets hit were Hamas compounds in Beit Hanoun and Beit Lahiya in northern Gaza. Reports from Gaza also said that Israeli warships shelled Khan Yunis port in the southern Strip, and an Israel Air Force aircraft attacked an underground facility east of Gaza City, close to the border with Israel. The IDF later confirmed the strike on Khan Yunis, which occured shortly before a 10pm ceasefire was due to take hold.

IAF warplanes also destroyed the office of Hamas leader Ismail Hanyeh in the Gaza City neighborhood of Rimal.

Ahead of the strike on Haniyeh's office, non-explosive devices were dropped on the building to alert those inside to evacuate, and to refrain from harming anyone not involved in the fighting. The IDF spokesperson said that the same building was bombed in Operation Pillar of Defense in 2012, and is still used for meetings by militant leaders.

"We are talking about a Hamas government asset that is used for military purposes," the IDF said.

The IAF also bombed a three-story building in the Gaza Strip that served as Hamas's secret headquarters. The building, in the neighborhood of Sabra, was used by the Hamas security forces as well as its military intelligence.

The IDF spokesperson also said that the IAF struck buildings belonging to Hamas's internal security forces.

Throughout Monday night, the terror groups in Gaza continued to launch rockets and mortars at Israeli towns close to the border.

Despite declaring a ceasefire at 10pm, the groups then launched an additional 30 rockets and mortars at Israeli targets. The Iron Dome missile defense system intercepted some of the rockets and the rest fell in open fields.

The Islamic Jihad terror group threatened Monday night to launch its own attacks should the IAF keep striking Gaza.

"If the attacks continue, the Palestinian resistance in Gaza will not hesitate to do it duty. The Palestinian resistance is the one that will decide when and how this (the hostilities) will end," the group said.

A senior Israeli official said in response that, "It is all up to Hamas."