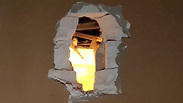 House in Sderot sustained a direct hit
Photo: Roee Idan
A resident of the Israeli border town of Sderot saw his house sustain a direct hit from a Gaza rocket late Monday evening - for the second time in just a few years.

"I was home alone, sitting in my living room when I heard a rocket alert, and immediately ran to the safe room," said Shlomo Moskowitz. "All of a sudden, I heard a loud explosion. I went into the living room and it was filled with smoke. I went into my son's room and it was ruined. The rocket was lying on the floor and did not explode."

Gaza militants fired at least 100 rockets into southern Israel and Israeli aircraft carried out hundreds of strikes in the Hamas-ruled territory late Monday and early Tuesday, in the latest round of cross-border fighting between the two sides.

Moskowitz said the incident brings back bad memories since his house has been damaged by rockets fired from Gaza in the past. "I went downstairs and called the police … This is an unpleasant feeling. My home was damaged by a rocket a few years ago also … but we're strong, we have no other country … no one will break us," he said.

Moskowitz's neighbor, Eliav Vanunu, said the explosion was so powerful, they immediately realized the rocket landed in the vicinity of their home. "I have three children aged four, nine and twelve. We still have not recovered from what happened but we hope everything will be alright," he said.

The latest round of violence began early Monday when seven Israelis, including an infant, were wounded when a house in a moshav northeast of Tel Aviv was directly hit by a long-range rocket fired from Gaza by what the IDF said were Hamas operatives.

Prime Minister Benjamin Netanyahu cut short a visit to the United States, and rushed back to to Israel after a meeting with President Donald Trump at the White House. He was expected to convene a meeting with top security officials at the Defense Ministry headquarters in Tel Aviv shortly after landing in Israel.