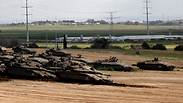 IDF tanks make their way to Gaza border
Photo: Reuters
A senior source in Jerusalem on Tuesday dismissed claims by Palestinian officials that a ceasefire has been reached between Israel and Hamas, warning that the Jewish state was planning further strikes on the terror group that rules the Gaza Strip.
"There is no agreement regarding a ceasefire, we are prepared to strike with even harder blows," the source said.
The remarks were made shortly after Prime Minister Benjamin Netanyahu landed in Israel after cutting short his trip to Washington following a meeting with President Donald Trump. Netanyahu was to convene a security meeting at Defense Ministry HQ in Tel Aviv shorty after landing.
"The prime minister has been updated on the latest developments during the flight and was in constant contact with the IDF chief of staff." the source said. "The instruction was to continue the strikes, the last word has to remain with Israel. Hamas has made various proposals for a ceasefire through intermediaries, and even offered to stop the clashes on the Gaza border," the source added.
Meanwhile, Hamas said they are cancelling all demonstrations along the security fence in light of "the security situation."
During the meeting with Trump on Monday, Netanyahu said Israel would "respond forcefully to this wanton aggression," adding that, "after this meeting, I will return home ahead of schedule to lead the people of Israel and the soldiers of Israel."
Gaza militants fired at least 100 rockets into southern Israel and Israeli aircraft carried out hundreds of strikes in the Hamas-ruled territory late Monday and early Tuesday, in the latest round of cross-border fighting between the two sides.
The latest round of violence began early Monday when seven Israelis, including an infant, were wounded when a house in a moshav northeast of Tel Aviv was directly hit by a long-range rocket fired from Gaza by what the IDF said were Hamas operatives.
The Israeli military said it was a self-manufactured rocket with a range of 120 kilometers (75 miles), making it one of the deepest strikes ever carried out by Hamas.
Associated Press and Reuters contributed to this report