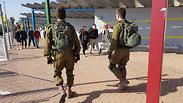 IDF troops protect schools in Gaza border communities
Photo: Barel Efraim
Israel opens schools in Gaza border towns as tense quiet returns after night of clashes
IDF soldiers patrol educational institutions in communities near the Strip, but some parents opt to keep their children at home; local residents protest over uncertainty surrounding the security situation on southern border
An unofficial cease-fire appeared to be holding Wednesday between Israel and Gaza's Hamas rulers, despite limited exchanges of fire. A limited number of overnight rocket attacks from Gaza set off air-raid sirens, breaking a daylong lull. The Israeli military struck back against additional Hamas targets, but there were no reports of casualties on either side.
Schools in communities and cities close to the Gaza border - often the first target of Palestinian rocket and mortar fire - opened as usual on Wednesday morning after consultations with the IDF Home Front Command. In the Eshkol Regional Council - where soldiers were stationed at school entrances - some 30 percent of the students didn't make it to class as parents opted to keep their children at home.
Both Israel and Hamas appeared ready Wednesday to step back from the brink of a full-fledged confrontation. But violence could erupt again this weekend, when Hamas is set to stage large-scale protests along the Israel-Gaza border, marking the first anniversary of weekly March of Return riots, in which nearly 200 Palestinians have been killed by IDF fire.
The Israeli military bolstered its forces along the Gaza border in advance.
Israel and Hamas have fought three wars and dozens of skirmishes since the Islamic terrorist group seized control of Gaza in 2007 and expelling Palestinian President Mahmoud Abbas' rival Fatah movement. The latest round was triggered by a Gaza rocket fired before dawn on Monday that slammed into a house in central Israel and wounded seven people.
Meanwhile, dozens of residents from Israel's Gaza border communities took to the streets late Tuesday in protest over the deteriorating security situation on the southern border.
The demonstration began just as the IDF lifted all restrictions on activities in the area, which minutes later was followed by an air-raid siren following the launch of a rocket at the Eshkol Regional Council.
The protesters waved banners and demanded that the government adopt a definitive policy when it comes to dealing with violence from Gaza.
"The country hasn't had a policy for years, and the residents of the border communities are paying the price," said one of the protesters, Adi Hamui. "Although schools operate as usual, some parents choose not to send their kids to school. The problem is that there is no concrete policy for emergency situations and some parents are forced to go to work." he said.
"We call on the government to wake up and stop their narrow and cynical considerations that compromise the security of the entire country. A clear strategic plan is needed in order to achieve a realistic long-term solution," he added.
"We live in constant state of uncertainty and we do not know whether we're still in the midsts of an escalation or not," said Ravit Mena, a resident of the border town of Sderot. "They talk about a ceasefire but then there are air-raid sirens. Then they talk about lifting all restrictions, but then there are IDF strikes. We are very confused, which doesn't provide us with a sense of security."
Itai Pachter, from Kibbutz Kfar Aza - just five kilometers east of Gaza - pointed a finger at Prime Minister Benjamin Netanyahu, who also holds the position of defense minister, claiming that rocket fire on central Israel elicited a far tougher response than attacks on their communities.
"He has abandoned us, betrayed us, he lies and deceives us. He doesn't acknowledge our existence," she said. "One rocket lands in the Sharon region and suddenly they shut everything down and send an army to the border."
"We, the residents of the Gaza border communities, are patient and strong … but Netanyahu accomplished nothing in the past two days," she said. "Airborne incendiary devices and nighttime clashes on the border have already resumed. I already started to pack my bag in order to leave, but I had a feeling it would be over before it even started."
The latest round of violence began early Monday when seven Israelis, including an infant, were wounded when a house in a moshav northeast of Tel Aviv was directly hit by a long-range rocket fired from Gaza by what the IDF said were Hamas operatives.
The Israeli military said it was a self-manufactured rocket with a range of 120 kilometers (75 miles), making it one of the deepest strikes ever carried out by Hamas.