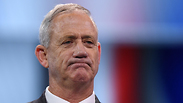 The Blue and White party is scrambling to uncover a "mole" who has been leaking sensitive information about its leader Benny Gantz. The leaker is apparently someone inside party HQ and is responsible for exposing embarrassing recordings of Gantz made during closed meetings.

The former IDF chief emerged as Prime Minister Benjamin Netanyahu's toughest opponent ahead of the April 9 elections, with his party leading the ruling Likud in the polls. Gantz is currently in Washington after giving a speech at the AIPAC conference on Tuesday.

Over the past two weeks, at least two secret recordings of Gantz were leaked. In the first, Gantz is heard admitting - in an intimate conversation with his party's staff - that he wouldn't completely rule out the possibility of joining a Netanyahu government after the elections. Gantz went as far as to suggest forming a coalition with the ultra-Orthodox parties. "I am giving you a blank page with my signature on it, leave me a third of that page, the rest fill in however you want," Gantz said in the recording.

In the second recording - made during a very limited forum - Gantz said that Netanyahu would be prepared to physically harm him on the eve of the elections. "If Netanyahu had a way to kill me, he would have done it," Gantz can be heard saying.

Senior Blue and White party officials admitted the release of the second recording caused personal harm to the party leader and damaged his image. One senior party member urged the party to "examine how these conversations are being leaked from the election headquarters." The party claimed this is currently a small-scale investigation, which will be expanded in scope once Gantz returns to Israel from Washington.

The investigation will remain internal, without the involvement of external bodies. Party officials also said the investigation will not include polygraph tests for Blue and White employees, advisers or close associates who participate in closed meetings with Gantz.

"We want to know who the guy leaking this material is," said a senior party official, calling the situation "a very disturbing incident."

Since Gantz's recordings have been made public, the social networks have been flooded with parodies and posts - made mainly by the Likud supporters - ridiculing the Blue and White party leader, in an attempt to make the former IDF chief seem mentally unstable and weak.

For instance, on Netanyahu's official Instagram page, a video was published showing Gantz stuttering and seemingly unable to answer questions during a television interview. In reality, the stuttering was a result of a broadcast delay since the Blue and White leader was in Washington and heard the questions several seconds after they'd been asked. The video on the prime minister's page then tried to make a connection between the leaked conversations and the awkward interview, making Gantz seem as though he was unfit to be a premier.

Tourism Minister Yariv Levin, who was in charge as prime minister during Netanyahu's recent trip to the United States, also reiterated the statements of Likud officials. "We saw yesterday Gantz's shocking television appearance," he said in an interview with Ynet. "He's living in a fantasy world and is dreaming about the prime minister sending people to assassinate him."

"We have never seen an Israeli prime minister who manages such a dirty elections campaign," said Blue and White in a statement. "There is only one reason for him to spread a disproportionate amount of lies and fake news - he realizes that he is going to lose."