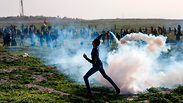 Palestinian protests on the Gaza border
Hamas leader Ismail Haniyeh apparently signalled his group's readiness to end the latest round of fighting with Israel on Wednesday, but indicated that the protests planned for Saturday will go ahead.

"The resistance said its piece and Israel got the message. I congratulate everyone who helped end the Zionist arrogance in the Gaza Strip," said Haniyeh, whose Gaza City offices were decimated in an IAF strike on Monday night.

"We will restore the leadership's headquarters, which is a symbol of steadfastness and heroism," Haniyeh said. "I call on all the Palestinian people... to go out on Land Day and participate in the million man marches."

Israel Air Force warplanes launched a series of airstrikes on Hamas targets in the Gaza Strip on Monday evening, after a rocket fired from Gaza - which Israel says the work of Hamas - hit a home in central Israel, destroying the building and wounding seven people. Hamas in return fired multiple rockets at Israeli communities close to the Gaza border, forcing local residents into bomb shelters.

The fighting continued throughout Tuesday, and a brief lull was broken by a rocket fired at Ashkelon and subsequent IAF strikes. There were no reports of casualties on either side.

Script Embedder

By Wednesday, however, an unofficial cease-fire appeared to be taking hold, despite limited exchanges of fire, a both Israel and Hamas appeared ready Wednesday to step back from the brink of a full-fledged confrontation.

Schools in communities and cities close to the Gaza border - often the first target of Palestinian rocket and mortar fire - opened as usual on Wednesday morning after consultations with the IDF Home Front Command. In the Eshkol Regional Council - where soldiers were stationed at school entrances - some 30 percent of the students didn't make it to class as parents opted to keep their children at home.

But violence could erupt again this weekend, when Hamas is set to stage large-scale protests along the Israel-Gaza border, marking the first anniversary of weekly March of Return riots, in which nearly 200 Palestinians have been killed by IDF fire.

Saturday also marks the annual Land Day protests, commemorating 1976 protests over Israeli appropriation of territory in which six unarmed Arabs were killed and around one hundred others were wounded.

Haniyeh's comments illustrated Hamas' insistence that the protests will go ahead.

The London-based, Arabic-language newspaper Asharq Al-Awsat reported Wednesday morning that Hamas has refused to halt Friday protests or night-time disturbances along the Gaza border fence despite the latest round of fighting with Israel.