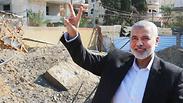 Ismail Haniyeh flashes a victory sign as he stands next to at the rubble of his office building in G
Gaza terms take shape: End to border violence, better conditions in Strip
Egyptian mediators present Hamas with Israeli conditions in overnight meeting attended by Islamic Jihad and other militant groups; proposal calls for increased Gaza power supply, fishing zone in return for halt in attacks on Israel, troops
An Egyptian delegation presented Hamas officials with Israel's terms for the end to the latest round of hostilities, during an overnight meeting Wednesday in Gaza.
The meeting, which took place at Hamas leader Yahya Simwar's office, also included representatives from Islamic Jihad, the Popular Front for the Liberation of Palestine and the Democratic Front for the Liberation of Palestine.
Sources in Gaza told Ynet that the the Israeli proposal presented to the Palestinians includes, among other things, an increase in the number of trucks entering the Gaza Strip through the Kerem Shalom crossing; an increasing in the Gaza fishing zone to 12 miles and improvement in the Gaza electricity supply.
In exchange Hamas will end the nighttime confrontations along the border and guarantee that the mass demonstration planned for Saturday is nonviolent. The group will also halt the regular dispatch into Israel of incendiary and explosive devices attached to balloons and floated across the border. These devices have caused millions of shekels in damage to Israeli farmland.
The Egyptian mediators rushed to the Strip via the Erez Crossing and a senior Hamas leader emerged from his hideout as the unofficial cease-fire between Israel and the terror group appeared to take hold after two days of fighting. The key test will be Saturday, when Hamas holds its demonstration to mark the one-year anniversary of weekly protests along the Israeli border.
In a sign that both sides had stepped back from a major conflagration, Ismail Haniyeh made his first public appearance since violence with Israel erupted earlier this week. During times of fighting, Hamas leaders typically go underground, fearing assassination by Israel.
Standing before the rubble of his Gaza City office, which was destroyed in an Israeli airstrike on Monday, he declared that "the Israeli occupation got the message."
Haniyeh urged Palestinians to come out in force to the Saturday demonstration. The Israeli Defense Forces bolstered its forces along the Gaza frontier in advance.
Hamas has staged the protests in hopes of pressuring Israel and Egypt to ease a crippling blockade the two countries say was imposed to deter attacks. The protests, however, have yielded few gains, and nearly 200 Palestinians have been killed by Israeli fire.
Israel accuses Hamas of using the demonstrations as cover for attacks, and says it is defending its border against crowds that have hurled flaming tires, grenades and other explosives at troops.
IDF Chief of Staff Aviv Kochavi meets on Gaza with senior IDF officials, March 28, 2019
But the military has come under heavy international criticism for allegedly using disproportionate force against large numbers of purportedly unarmed protesters.
Israel and Hamas have fought three wars and dozens of skirmishes since the Islamic militant group seized control of Gaza in 2007. The latest round was triggered by a Gaza rocket fired early Monday that slammed into a house in central Israel and wounded seven people.