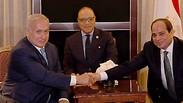 Netanyahu and Sisi at the UN General Assembly in Sept. 2018
Photo: GPO
The Egyptian team tasked with mediating an agreement to end days of fighting in the Gaza Strip continued with its shuttle diplomacy Thursday afternoon, returning to Israel at around 1pm, after meeting with Hamas and other Palestinian militant groups.

The delegation, made up of Egyptian intelligence officials, returned from Gaza via the Erez Crossing, to convey the Hamas response to an Israeli proposal for restoring calm along the border.

The Egyptian team is expected to return to Gaza for further negotiations, following their consultations with Israeli officials.

On Wednesday night, the Egyptian team met at Hamas leader Yahya Sinwar's office in Gaza for talks that also included representatives from Islamic Jihad, the Popular Front for the Liberation of Palestine and the Democratic Front for the Liberation of Palestine.

The Egyptians handed Hamas the Israeli proposal, which sources in Gaza told Ynet includes the following terms:
Concessions for Gaza
• Increase in the number of trucks carrying essential supplies entering the Gaza Strip through the Kerem Shalom crossing

• Expanding a temporary employment project by the United Nations to 40,000 people

• Increasing the Gaza fishing zone to 12 nautical miles

• Improving the supply of electricity from Israel to the Gaza Strip

• Easing restrictions on the issue of import and export permits

• Approving the entry into Gaza of some materials currently classified as dual use
Israeli demands
• End to the nightly confrontations along the border

• Ceasing the coordination for fence protests near Kibbutz Zikim, as well as ending the attempts to sail into Israeli waters in the area

• Guarantees that the demonstration on Saturday will be nonviolent

The Egyptian mediators rushed to the Strip via the Erez Crossing and a senior Hamas leader emerged from his hideout as the unofficial cease-fire between Israel and the terror group appeared to take hold after two days of fighting. The key test will be Saturday, when Hamas holds its demonstration to mark the one-year anniversary of weekly protests along the Israeli border.

In a sign that both sides had stepped back from a major conflagration, Ismail Haniyeh made his first public appearance since violence with Israel erupted earlier this week. During times of fighting, Hamas leaders typically go underground, fearing assassination by Israel.