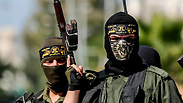 Islamic Jihad fighter in Gaza
Photo: AFP
Islamic Jihad is trying to carry out an attack or a series of attacks against Israel in the coming hours or days, according to the Israel Defense Forces, in an apparent bid to damage the significant progress of the Egyptian-UN mediation efforts between Israel and Hamas in the Gaza Strip.

In recent hours, Israeli security officials have identified unusual activity by members of the Islamic Jihad's military wing in several locations along the Israel-Gaza border fence. This activity could be an attempt to fire a missile such as a Kornet at an Israeli target, place explosive charges along the fence or even attempt to break through the fence to carry out a significant attack inside Israeli territory.

These preparations are being carried out under the nose of the Egyptian mediators, and as far as is known, Hamas is not even aware of this activity. It appears that the instructions for carrying out the attack were given to the group's military wing by the Beirut office of Islamic Jihad leader Ziad Nahala.

It is still not entirely clear why Islamic Jihad is interested in bringing about the total collapse of the arrangement currently being brokered by Egypt. It is possible that this is the organization's way of expressing dissatisfaction at what they are receiving as part of the agreement, or could be a directive from Iran, which funds Jihad, aimed at destroying the arrangement. Islamic Jihad is also responsible for the six rockets fired at the Gaza border communities on Sunday morning.

Islamic Jihad denied the IDF claim. "There is no truth to these reports. From time to time Israel tries to create confusion in the Palestinian arena, but these attempts will fail," the group said in a statement.

Two senior Islamic Jihad figures - Daud Shihab and Khaled Al-Batsh - are members of the extended committee in the Gaza Strip that receives updates from Egyptian intelligence about the progress of the negotiations. It is unclear whether they too are part of the plan to scupper the arrangement via a major attack.

Negotiations for the arrangement between Israel and Hamas are being conducted by General Ahmed Abdel Khalek, who holds the Palestinian portfolio in Egyptian Intelligence, and the UN's Middle East envoy, Nikolay Mladenov, who met Monday with Hamas leader Ismail Haniyeh at his home in the Shati refugee camp.

On the Hamas side, the negotiations are being handled by the group's Gaza chief Yahya Sinwar, while the Israel side is headed by National Security Council chair Meir Ben-Shabbat. As part of the negotiations, two crossings from Israel to the Gaza Strip - Erez and Kerem Shalom – have been reopened, while the supply of diesel to operate the Gaza power plant has been renewed through the latter.