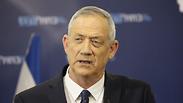 Benny Gantz
Photo: Moti Kimchi
Blue and White leader Benny Gantz lashed out at Prime Minister Benjamin Netanyahu on Monday, following a joint Yedioth Ahronoth-New York Times report on a network of fake social media accounts dedicated to promoting the prime minister and his Likud party ahead of the April 9 elections.

"Netanyahu is going to lose, Netanyahu is stressed," Gantz said at a press conference in Tel Aviv, flanked by his political partners Gabi Ashkenazi, Yair Lapid and Moshe Ya'alon. "The report published this morning reveals that Netanyahu is leading campaign of terror on the consciousness of the citizens of Israel."

Gantz, Ya'alon and Ashkenazi are all former heads of the Israel Defense Forces.

According to research by internet watchdog Big Bots Project, a covert and complex army of fake social media accounts has been disseminating posts in support of Netanyahu and his Likud party ahead of the elections.

The watchdog found that this network has posted more than 130,000 times in Hebrew on Facebook and Twitter - posts that have had 2.5 million hits in Israel. These posts have the sole purpose of praising Netanyahu and spreading false information about his rivals, primarily Gantz.

The report does not identify a direct link between the network and the Likud or any of its staff. It says, however, that the network's activity raises suspicions of serious criminal offenses, including violations of the Election Law, campaign financing, privacy laws, income tax and more.

The former IDF chief also alleged that Netanyahu was behind leaks of his private conversations that have appeared in the media in recent weeks.

"Israeli citizens have been inundated in recent months with messages and fake news on the digital network," Gantz said.

"Netanyahu does not balk at lies, does not balk at manipulations. This is not happenstance. The various security leaks (of Gantz's private comments) combine with today's news into one big lie," he said.

"Anyone who deals in leaks will not hesitate to establish a system of fake news, of which only the tip of the iceberg was revealed today. There is an entire system using large sums of money in order to win the election, and that needs to be investigated," he said.

Gantz added: "I am not worried about myself, I have managed under pressure, I have made difficult decisions; I am less worried. It is interesting what will come at me next, Netanyahu can throw as much dirt at me as he wants. I am determined, I am going to win."

The Blue and White officials said that they have filed a complaint with the police about the social media network.