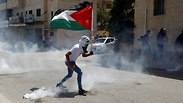 IDF clashes with Palestinians near Qalandia , West Bank
Photo: Reuters
A Palestinian was killed and three other people were wounded during pre-dawn clashes with Israeli security forces in the West Bank, Palestinian Authority officials said Tuesday morning.
The clashes occurred during an arrest raid in Qalandia refugee camp, north of Jerusalem. The IDF said that troops came under attack by Palestinians after they entered the town.
The army said that Israeli forces operating in the area came under attack when "violent disruptions erupted, including stone and explosives being thrown at the forces." The troops responded with live fire, the army said, adding that "the incident will be investigated."
Ramallah medical center chief Ahmad Betawi said they had received the body of a 23-year-old Palestinian shot by Israeli troops, as well as the three wounded Palestinians taken there for treatment.
Palestinian news agency Wafa named the dead man as Mohammad Ali Dar Adwan, and reported that he was shot dead at close range by Israeli troops as he drove down a street in the camp.
Wafa also reported that three brothers from the same family were arrested in the camp during the raid.
The IDF said troops had arrested 12 Palestinians wanted for "involvement in terror activity and violent disturbances."
Israeli forces also arrested a senior Hamas official, Hassan Yusif, in Ramallah.
The army also said that forces operating in the village of Beit Omar, south of Jerusalem, found and confiscated home-made illegal weapons.
Last Wednesday, a 17-year-old Palestinian was shot dead by Israeli troops during clashes with stone-throwers in Deheisha refugee camp near the West Bank town of Bethlehem.
Over the weekend, three Palestinian men were killed and 64 others were wounded by Israeli fire as some 40,000 demonstrators massed at several rallying points near Israeli border to mark one year of weekly March of Return protests in the Strip.
On Saturday, Gaza health officials said Israeli troops shot and killed another Palestinian man near the perimeter fence with Israel, hours before the planned mass rally.