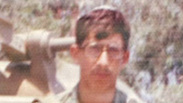 Zachary Baumel
Photo: Reproduction
The body of an Israeli soldier who disappeared in battle during the First Lebanon War has been returned to his family after 37 years, the IDF said Wednesday.

The remains of Brooklyn-born First Sergeant Zachary Baumel were repatriated to Israel several days ago via a third country. According to IDF spokesman Lt. Col. Jonathan Conricus, the body was returned to Israel on an El Al plane and identified after years of "significant intelligence operations."

After DNA tests at Abu Kabir Forensics Institute in Tel Aviv confirmed his identity, the body was handed over to family members Wednesday afternoon. He will be laid to rest in the coming days, the Israeli media reported

Baumel went missing during the June 1982 battle against Syrian troops at the Lebanese village of Sultan Yacoub, close to the Lebanese-Syrian border. He was believed to have been captured by enemy forces.

Prime Minister Netanyahu visited by Baumel family

The Battle of Sultan Yacoub took place on the sixth day of the First Lebanon War, known in Israel is Operation Peace for Galilee. Israel suffered 20 confirmed losses in the battle, as well as dozens of wounded. Six soldiers were unaccounted for, including Feldman, Baumel, and Katz.

The fates of the other three soldiers were later discovered: One was killed in the battle and buried in Syria, with his body being returned to Israel after the war; another was captured by the Syrians and freed two years later; and the third was captured by a terrorist organization and freed via a prisoner exchange deal that took place three years later.

The operation to return Baumel's remains, led by Colonel A. of the intelligence branch, was planned in recent months and reached its height a week ago, when the troops who were tasked with bringing his body back were given a green light to proceed.

"There was no deal and no negotiations to return Baumel. He was returned in a military operation," said IDF Spokesperson Brig. Gen. Ronen Manlis.

"We are not saying where his body was found. The operation proves that we never abandoned the Sultan Yacoub case. The families know that we will continue to make every effort to bring their sons home."

According to Saudi-owned Arabic news channel, Al Arabiya, Russia - which has a strong military presence in Syria - helped to recover the body.

Earlier this week, as soon as the identity of the fallen soldier was confirmed, Prime Minister Benjamin Netanyahu called Russian President Vladimir Putin and requested a meeting to personally thank him and discuss other issues related to Syria that remained open from their previous encounter.

Netanyahu will depart Thursday for Moscow, a decision that had raised some eyebrows given the proximity to the April 9 elections.

The families of the other who soldiers who have been missing since Sultan Yacoub, Yehuda Katz and Zvi Feldman, were informed that Baumel's remains had been located.

The relatives of IDF navigator Ron Arad, who disappeared during a mission over Lebanon in 1986, and the families of Hadar Goldin and Oron Shaul, who have been missing in Gaza since the 2014 war with Hamas, were also told that Baumel's remains had been returned.
'A difficult day'
President Reuven Rivlin welcomed the news of the return of Baumel's body and praised the the security forces who were involved in the operation.
"We have received the moving and painful news that the body of First Sergeant Zachary Baumel has been brought home to Israel. Thirty-seven unbearable years of painful waiting, of questions and doubts have come to an end thanks to the determined and ceaseless work of the IDF and Israel's intelligence community," Rivlin said in a statement.
"On this difficult, moving and sad day, our thoughts are with the Baumel family, crying and hurting with them as they bring their son Zachary to eternal rest in our country, our land," he added. "I thank the IDF and the whole Israeli intelligence community for their commitment, bravery and action, day and night, to bring our soldiers and those who fell defending the country and the people, home.
"We will not cease until all our soldiers have returned home – First Sergeant Yehuda Katz, First Sergeant Zvika Feldman and all those missing in action and whose place of burial is not known. Our commitment to our soldiers has always been, and will always be, a shining light. We go to battle together, and together we return from it," he said.
Prime Minister Benjamin Netanyahu made a televised statement, in which he called the mission to retrieve Baumel's remains the essence of the Israeli spirit.
"This is one of the most moving moments of all my years as prime minister of Israel," he said. "Zachary's bones, which were brought to Israel, were identified with certainty. Next to them were his overalls and his tzitzit (religious garment won by observant Jewish men)," he added.
"The operation to return him to Israel is the ultimate expression of the mutual responsibility and comradeship that characterize us as a nation, as an army and as a country."
Baumel's funeral will take place on Thursday at 7pm at the military cemetery on Mount Herzl in Jerusalem, Israeli military confirmed Wednesday evening.