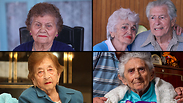 They came to Israel after long and exhausting experiences, to build a country from scratch: cities, infrastructure, a society and a state. They have worked their entire lives, raised families, paid their taxes and today are facing a different kind of battle. They are trying to support themselves with pitiful old age pensions, fighting to receive basic services such as health care and social services and are spending their final years feeling they are a burden on society, on the state and on their families.
According a poverty report conducted by the Latet (To Give) NGO, there are 1million elderly people in Israel, 175,000 of who are living below the poverty line. By 2035, they are expected to be 13.7% of the population and the burden will be much heavier.
Basic old age pensions in Israel are NIS1,035 ($426) per month per person and NIS 2307 ($640) per couple, an increase of only NIS 6 ($1.6) in the past year. The outgoing government proposed a law increasing old age pensions but the legislation was dropped.
The study, conducted among the recipients of aid from the Latet NGO who do not receive any retirement pensions at all, found 88% of them cannot afford home care, and two thirds of them cannot pay their medical bills. They cut down on food, eat less healthily, struggle to adapt their living conditions to their needs and rely entirely on the over-burdened public health sector. Almost 80% of those asked, describe themselves as lonely.
Their story will be ours one day. Our mission is to preserve their honor, if only so as to preserve our own.
Hana Adar, aged 88:
Once a day I dress up, put on my make-up and jewels and go to the senior's day care center in Raanana to chat with my girlfriends. The rest of the time I am home, crying. Since my husband passed away I live alone. Anyone who comes in, jokes about the mess, the dirt. It is not funny.
Adela Chokler, 89:
I buy four pieces of meat, four tomatoes and four cucumbers. When the money runs out I don't buy anything and make do… I postpone crucial repairs at home. I had to fix the bathroom faucet which cost 1000 shekels ($277) which meant I had to forgo other things including food. When the hot water heater broke I could not shower for a month. I couldn't afford the cost of repair. I cannot sleep in my bedroom for the mold.
Rivka Shmilowitz:
Every year I change, I get sicker. Age takes its toll. No one looks at us and there is no one to count on. This feeling that I am unimportant and people are just waiting for me to be gone is putting me in the ground. I am old but have feelings like the young.
All those asked reported a sense of isolation. They spend most hours of the day at home. In a study conducted by Social Finance Israel, a non-profit organization advocating innovative social solutions, reveals the sense of isolation effects the health of senior citizens in Israel and proper treatment of it can significantly reduce direct and in-direct cost to different national institutions.
Seniors living alone seek medical care and are admitted to hospital more often. Diseases like diabetes, dementia and depression are directly linked to loneliness and elderly people living alone rely more heavily on care givers.
Of the population over 65, 27% suffer from chronic loneliness. That is nearly a third of seniors. Emanuel Buchbut of SFI says that as the population grows older it is also becoming more individualist and therefore lonelier. The UK for example has created a ministry for loneliness tasked with taking on this problem.