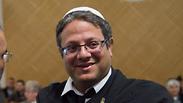 Otzma Yehudit member Itamar Ben-Gvir
Photo: Yoav Dudkevitch
Facebooks blocks Israeli far-right politician ahead of elections
'100 dead terrorists, but not a single hair will fall from the heads of IDF soldiers,' says a campaign by far-right party Otzma Yehudit that got Itamar Ben-Gvir banned from social network for a week; would-be MK hits backs, says Facebook has 'extreme-leftist agenda'
With five days to go until Israel's elections, Facebook has temporarily blocked the account of Otzma Yehudit (Jewish Power) Party member Itamar Ben-Gvir, claiming he had repeatedly violated the social network's terms and conditions.

One of the reasons for Ben-Gvir's ban apparently was a photo showing portraits of Otzma Yehudit leaders with a slogan reading, "100 dead terrorists, but not a single hair will fall from the heads of IDF soldiers." However, several other posts by Ben-Gvir were also reported, and an unnamed source said that the far-right politician was warned by Facebook before he was actually blocked.

Ben-Gvir slammed Facebook for the move, and filed a petition to the Central Elections Committee over the ban. "Elections are less than a week away, and the dictatorship of Facebook kicks up a notch and tries to silence a Knesset nominee," said Ben- Gvir.

"This is obviously because I'm an ideological rightist, since Facebook is a social media network with an extreme-leftist agenda," said Ben-Gvir.

"We won't let this situation continue," said Ben-Gvir. "Facebook will not silence rightists while they do nothing about terrorists (on their network)."

"I've filed an urgent petition to the Central Election Committee… Facebook will be notified before I sue them for millions," he said.

The Otzma Yehudit Party is the latest incarnation of the Jewish National Front, a party that was established ahead of the 2006 elections, but its roots are in the Kach movement, which Rabbi Meir Kahane established in the 1970s.

Kach was a radical and racist right-wing movement with fascist characteristics; it called to expel Arab citizens from Israeli territory and promoted racist legislation against all non-Jews. It also believed in making Israel a Halachic state (ruled by Jewish law) and in annexing all parts of Greater Israel, which includes Jordan, Saudi Arabia, Iraq, Turkey, Lebanon and Syria.