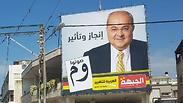 A Hadash and Ta'al poster in Tira
Photo: Assaf Kamar
Ahead of elections, Israeli Arabs are disillusioned and undecided
While some of Tira's residents are outraged over rightist parties that incite against Arabs, others complain that their very own MKs are focused on the Palestinian issue, while neglecting domestic matters, and some are even voting for Netanyahu
On the eve of Israel's elections, one area of the public — the Arab sector —is far less excited about the big day, with predictions saying only 60 percent intending to utilize their democratic right.

The difficult decisions Israeli Arabs are facing ahead of the Tuesday elections are well represented in the city of Tira in central Israel, close to the West Bank.

Tira enjoys a bustling market that draws a vast crowd of Israeli Jews on Saturdays. The bustling cafes, the packed restaurants and broad smiles to help to create a relaxed co-existence atmosphere, despite a dark history of battles that took place here in 1948.

In 2015, during the last elections, the Joint Arab List won a staggering 94.98% of the votes in Tira. Meretz came in second with 2.68%, with all other parties represented by very small numbers — including some rightists parties that got a handful of votes.

But in 2019, residents seem to be disillusioned and apathetic about the elections, after a term characterized by ample anti-Arab sentiment.

Naser Faisel, a Tira resident who went to a Jewish boarding school, is part of the 60% who are going to vote Tuesday.

"There's a competition among Jewish politicians in the right and center regarding who can incite and appear most extreme in the face of the Arab public, " Faisel said.

"I'm an Israeli citizen and I want a decent life and justice for all sectors of the population. I'll probably vote for one of the Joint List branches," he said referring to the predominantly Arab parties that ran together in the 2015 elections and which have now split into two separate entities — Ra'am and Balad in one, and Hadash and Ta'al the other.

"It's not so important since there aren't so many differences between them," he said. "I've yet to decide."

Ayman Shabita, a fellow resident, also means to vote for one of the Joint List parties.

"I've voted for Hadash my entire life," he said, referring to the far-left Arab-Jewish party that was once part of the Joint List.

"It's made up of Jews and Arabs who work for co-existence together. The main issue on our agenda is the discrimination against us and the fact that civil rights in this country aren't equal for all citizens."

Mansour Na'im, who owns a well-known hummus restaurant in the city, is also undecided but feels that the current government has treated his community poorly.

"We're 20% of the population but the prime minister ignores us. These aren't democratic elections, this is incitement," he said

"Netanyahu makes the hate (for us) greater and creates a rift between the Jewish and Arab citizens of Israel," said Mansour.

Despite the overwhelming support for Arab parties, many still criticized the Arab MKs and said they felt disappointed by their support for the Palestinian cause rather than internal Arab issues.

Lawyer Hadil Talawi, who also expressed her concern about hate speech and anti-Arab incitement, slammed the Arab parties for their involvement in the Palestinian issue, and for what he perceives as the neglect of the burning issues the Israeli-Arab society has on its agenda.

"We care about the Palestinian issue, but we want our representatives to be more active in social sphere," he said.

"The most important thing is to stop the violence in the Arab sector and to invest in education. We want to raise our children in a non-violent society with no corruption, we all want peace," said Talawi.

"Arab politicians need to be replaced," said Ibrahim Beshara, another local resident who said he'll be voting for Meretz on Tuesday.

"They only ever talk about the Palestinians, I want my leaders to take care of my street and my life here in Tira."

Samar Azam, who will also be voting for Meretz, agrees.

"None of them (Arab MK's) talks about what's happening inside Israel. All they do is talk and there are no results," he said.

Despite the anger about Prime Minister Benjamin Netanyahu's approach towards Israel's Arabs, some of Tira's residents consider voting for him nonetheless, due to his party's record of action in civil matters.

"I'm thinking of voting for Netanyahu," said Hanan Zebarga, a nurse. "The Arab parties just talk and talk, but the Likud Party helped us solve problems in our city. Netanyahu will bring us security."

Zebarga wasn't the only local resident that cited the Likud as force for the better in Tira. Some Likud politicians, who were able to assist residents with getting building permits and prevented home demolitions for illegal properties, enjoy local support despite the heated political atmosphere.

While it's hard to believe, some Arab voters chose to give their vote to parties that are even further to the right of Likud. Muhammed Ata, a coffee house owner, will be voting for Zehut Party, led by a religious Jew who is also a settler — Moshe Feiglin.

"It's not because of his support for cannabis," said Ata. "I like the way he speaks, and he has an interesting financial plan," he said, referring to his candidate's libertarian-style platform on the Israeli economy.

There is no doubt that Israel's Arabs communities have a lot on the stakes when it comes to the country's future leadership. Where their votes will go remains to be seen on Tuesday.