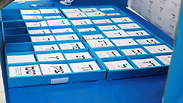 Ballots await voters in IDF bases, were voting took place ahead of Tuesday 's elections
Photo: Reuters
Despite their advanced age, longtime activists continue to support political parties battling for seats in the next parliament.
These six activists have already seen everything in Israeli politics. Heading into the 2019 elections, they are trying to mobilize all their combined 511 years of experience for the success of the political parties they support.
"The Labor Movement is my home, I was born into it and I believe in it to this day," says Eli Goren, (87), of the Kibbutz Geva in the Northern Israel.
Goren has never left the party, not even for a moment. He worries his children will vote for other left leaning parties, and due to the unflattering polling results, knows he must "make a significant effort to convince them to vote for Labor.
"I have managed to persuade at least 300 or 400 people to vote for Lieberman," says Boris Groisman, (91), of Upper Nazareth, an activist in Yisrael Beiteinu since 1999. "From the time I get up I'm busy with the elections, I come here and walk around convincing people, I don't rest, I'm full of energy. If I were to stay at home, I would just be bored"
Gabi Deus (81) was treasurer of Meretz until seven years ago and voted for the party since 1988. He continues to attend party conferences and advises on financial issues.
"I never thought about changing party," he says. "Even now, I am convinced that Meretz is still relevant and am certain that it will pass the threshold (of votes needed to get seats in the next Knesset)."
Tawfiq Husri (86) from Umm al-Fahm, has 21 grandchildren and six great-grandchildren. He will vote for Hadash. Even at his age, he continues to come to the at Umm al-Fahm headquarters to help.
"I have been active in the Communist Party since the 1950s," he says. "In 1958 we protested against the military rule. I was arrested and sentenced to two years in prison. I was active during the most difficult days and clashed with security forces often.
Avraham Fried, (76), chairman of the Likud branch on the outskirts of Haifa, tries to explain to his volunteers that the elections are a "battle" for the future of the state.
"today the activists work inside the party offices. There are no stalls on the streets, no pamphlets. Everything is computerized.
Though warning of complacency Fried is still confident: " Bibi surely has something up his sleeve for the last minute. I want a crushing victory. "
Sarah Levy, (90), of Jerusalem, is the mother of MK Mickey Levy, number 22, on Beni Gantz's list.
"I have been a member of Irgun since the age of 14," she says, referring to the Zionist paramilitary organization that operated in Mandatory Palestine. "My husband was a Prisoner of Zion in the Soviet Union and when he came to Israel, he fought, as I did, in the Irgun."
"For most of my life I voted for Herut and then Likud. But just over 15 years ago, I stopped voting for the Likud. I felt the party no longer represent the values I fought for. I will now vote for the Blue and White list because they have beautiful ideas, which I hope will be fulfilled."