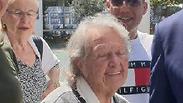 Zina Bar-Ness
Photo: Courtesy of the family
Zina Bar-Ness, aged 86, has been unable to leave her home in Bat Yam, just south of Tel Aviv, for the past 15 years, due to a medical condition. But on Tuesday she was determined to get past the front door so that she could vote.
"I'm making this effort for the country," she tells Ynet.
Leading up to Election Day, Bar-Ness decided she must make an effort to vote. She began practicing the route from her home to the polling station so that on Tuesday she could exercise her democratic right.
Bar-Ness is mum on who she intended to vote for, but is happy to explain why she is so anxious to make the effort.
"Everyone needs to vote," she says. " We need to not talk so much and do more. We need to vote and talk about peace."
Zina says that being housebound does not mean her life is dull.
"I am not bored at home" she says. "I have plenty to do. I enjoy doing things, and watch a lot of television."
Her effort on Tuesday she says is "for the sake of the country."
"I want peace in our country," she says. "Everyone talks about the Likud, about this and that, but no one talks about peace."
Bar-Ness is adamant that she is voting because she believes in peace.
"I have grandchildren, I have children," she says. "We deserve it even after so many years ... I wish there would be peace, that's what I wish for our country."