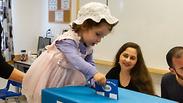 Israelis go to the polls
Photo: Ido Erez
Israelis took advantage of a national holiday Tuesday, casting their ballots to decide on the makeup of the 21st Knesset before heading off for some fun.

More than two million eligible voters cast their ballots by 2pm Tuesday, seven hours after the polls opened. The turnout was at 35.8%, slightly lower than the corresponding 36.7% turnout in the 2015 elections.

En route to the beach or to forms of fun, Israelis all over the country took time to make their voices heard in choosing their representatives in the Knesset.

Across the political spectrum, voters were definite in their opinion that this is a 'critical election."

Dale arrived at the polling station in Tel Aviv with her grandchildren. "They need to see what democracy is," she says.

Her grandchildren also enjoyed the democratic experience: "We took the ballot slip, and then grandma took a picture of grandpa voting, and it was really fun. Now we're going to photograph the spring flowers."

Hadar Fuchs Rubel of Haifa says her young daughter Neta, who accompanied her to the polls, found herself with an unexpected dilemma – who to vote for.

"She deliberated between the ballot slips," Hadar says. "We also had a disagreement, but we resolved it in the end."

"The elections are extremely critical for me," says Sylvie, at a polling station in Tel Aviv. "I plan to go to the beach for a while, but first I am exercising my right to vote."

"As far as I'm concerned, these elections are fateful, and therefore I had a serious dilemma between going with my heart and going with my head," says Rachel, also from Tel Aviv. "I think we are at kind of crossroads and it is very important for me to strengthen women."

Rachel's young son says he knows almost everything about the elections. He can name the leading candidates in the elections, Benny Ganz and Benjamin Netanyahu, and claims to have read the Blue and White party's political platform before arriving at the polling station.

"The elections are very critical for me, I want change and very much hope it will happen," says Kochava Moses at a Tel Aviv polling station. "Until now we have had something familiar."

Aside from their desire to vote and fulfill their civic duty, many Israelis had already planned their day of freedom.

Anat and Guy Koren of Jerusalem welcomed the chance to spend the day together in the middle of the working week.

"We were glad to vote early, and had the honor of going after President Rivlin," they said. "Now we plan to walk about a little. We are trying to decide between the Botanical Gardens in Jerusalem or perhaps a trip to the beach to catch some rays and some waves."

Tamar Lapid of Rosh Ha'ayin, who was voting this year for the first time, arrived at the ballot box ready for a dip in the sea.

"I am in my bathing suit," she says. "Everyone is on holiday and going to the beach."