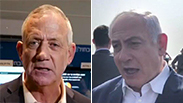 Voting in Israel's Election Day ended at 10pm Tuesday with two television exit polls predicting that Benny Gantz's Blue and White party will claim more seats than Benjamin Netanyahu's ruling Likud. The third exit poll showed the two parties tied.

According to the public broadcaster KAN, Blue and White will win 37 seats, while Likud will win 36 seats. Channel 12 (Keshet) had Blue and White also on 37 seats, but Likud falling behind with just 33. According to Channel 13 (Reshet), however, both parties will win 36 seats.

In terms of forming a government, however, both KAN and Channel 13 predict that the right-wing bloc will have more seats, while Channel 12 predicts that the two blocs are tied at 60 seats apiece.

A Ynet exit poll showed Blue and White winning 33 seats and Likud winning 27 seats. As with other exit polls, there is a massive gap

between the two frontrunners and the rest of the parties. The poll has Hadash-Ta'al and Shas winning 7 seats; the New Right taking 6 seats; United Torah Judaism, Kulanu and Zehut winning 5 seats, and the Union of Right-Wing Parties, Meretz, Balad-Ra'am and Yisrael Beytenu all winning 4 seats.


The results may change dramatically, however, as the night progresses and real results begin to come in.

The Blue and White party was quick to claim victory once the exit polls were out.

"We won! The Israeli public has had its say! Thanks to the thousands of activists and more than a million voters. There is a clear winner and loserin this election. Bibi promised 40 seats and lost big time," the party said in a statement.

Conversely, Netanyahu also claimed victory, and vowed to begin putting together his next government immediately.

"The right-wing bloc led by the Likud has won a clear victory," Netanyahu said. "I want to thank the citizens of Israel for your trust. I will begin forming a right-wing government with our natural allies this very night."

The ultra-Orthodox Shas said in a statement that party leader Aryeh Deri, who served as interior minister in the last Knesset, told Netanyahu that he would recommend to President Reuven Rivlin to task him with forming the new government. United Torah Judaism also released a similar statement. The Blue and White Party reached out to Deri, but were rebuffed.

Netanyahu also spoke with Kulanu Chairman Moshe Kahlon, who refused to commit and said he preferred to wait for the final results before deciding who to back for prime minister.

Yisrael Beiteinu leader Avigdor Lieberman also said that he is waiting for the final results before entering into any coalition negotiations. The former defense minister said there was no point in assuming anything until the votes of the IDF soldiers are counted.

The future for Naftali Bennett and Ayelet Shaked and their New Right party seems uncertain, with two polls showing them unable to pass the 3.25% threshold, while one gives them just enough votes to squeak in.

Moshe Feiglin, whose far-right Zehut party drew a great deal of attention thanks to his initial pledge to legalize cannabis, also apparently failed to win enough votes to pass the threshold.